Tuesday, May 31, 2005
Mad Libs
Last night's game was ________ (adj). In fact, I have ________ (adv) seen such a display of ________ (n). ________ (prop. n) may have ________ (v) his final opportunity with that misplay in ________ (n). Marquis must stop issuing ________ (pl. n), but the ________ (adj) umpire didn't help any. Neither did the wild ________ (pl. n). I'd like to see ________ (prop. n) not ________ (v) so many pitches in the ________ (n); something he's still ________ (pres. part.), I guess. Of course, Pujols was ________ (adj), ________ (adj), and ________ (adj) like we expect him to be.
Tonight, it's the very ________ (adj) Mulder against the not-so ________ (adj) Jennings. With a ________ (n) tonight, the Cardinals will be at .500 against the ________ (n) and ________ (n) Divisions. Not to ________ (v) 2-1 against the ________ (n).
Sunday, May 29, 2005
How Sad Is It
83.3% Perfect Homestand
Kind of like Ivory soap. What they don't tell you is the part of Ivory that isn't pure is filled with Men Left On Base In Scoring Position. So be careful next time you wash your face-that could be a stranded leadoff double leaving residue on your skin.
I guess it wasn't as bad as that. Yes, Grudzielanek failed to get a hit with the bases loaded. But Carpenter couldn't close the door on Wilkerson or Carroll (both had two strikes). Just one of those games. Still won the series, still good pitching all around ('specially from Suppan yesterday, considering his recent efforts), still in first (the ughCubs are now in 2nd), Yadi's still throwing out runners, Cedeno is still continuing his exercise in futility. All's right with the world. Plus, the Nationals are a .500 team in a tough division.
I've been keeping a close eye on Chicago. No, not that team.
This one
. With the NL Central fairly dull right now (the Battle To Break Even doesn't have a lot of inherent drama), I want the Cards to overtake the best record in the majors. So close-if they had won today they'd be at 33-16, with the Sox (who lost) at 33-17. But, alas, not yet. Soon.
Friday, May 27, 2005
Honestly...
...did anyone think we were going to lose a game with Morris on the mound and the Kile family in attendance? Matty was on a mission, and Jimmy Edmonds (he of the "DK 57" wrist tattoo) was on board. I'm pissed at FSMW for going to commercial rather than showing Kile's kids tearing down the number. I can't even imagine the ovation they received. But it was so fantastic to see Kannon (with his own specially made uniform) in the dugout during the whole game - he even made Duncan smile. Last year, even though he was hurting, Matty gutted it out, with no excuses, because that's what Kile would have done.
I remember exactly where and when I heard the news. I was pulling into a parking spot at Target, it was 2 pm here in Portland, to buy sample size shampoos for my vacation to St. Louis. I was listening to NPR and there was a clip of the announcement to Wrigley Field. Then the news reader said, "The reason [the game was cancelled] was St. Louis Cardinals pitcher Darryl Kile was found dead in his hotel room." I didn't hear any of the rest of the report - I immediately called my parents in St. Louis and asked "What happened to Kile?" It would be a while before we knew. I'm sure the patrons of Target thought I was crazy, pacing the shampoo aisle on the verge of tears, nearly screaming, "What are they saying about Kile?" Little did they know it was because for the second time in less than a week my heart was broken.
I had a boy over a few months after and was setting up the VCR to tape something when I came across Jack Buck's memorial service on the tape. There was a close up of Kile during the service and I almost lost it. The boy didn't understand. He was gone soon after this incident.
Yes, the Cardinals won tonight.
Matty and Jimmy would not allow anything else.
Thursday, May 26, 2005
Better Late Than Never
Back in November I decided to create a way of ranking players that looks at more than just on-field performance. So, I came up with the
Player Watchability Factor
(The rotation and other starting position players can be found in January and February archives if you wanna look). Of course this is just one tool you can use in player evaluation, but it will give you an idea of the over-all attractiveness of the team.
Grudzielanek
ON FIELD
Defense
i. Hustle (5) I remember him sliding to first base on a pick off. 9 points.
ii. Agility (7) Yes, he's quite athletic. Nice arm. 12 points.
iii. Catcher? (5/0) No. 0 points.
iv. Awareness (4) His head's in the game. 7 points.
v. Defensive Stance (6) Quite fine. 11 points.
vi. Pitching Face (5/0) No. 0 points.
Offense
i. Hustle (5) Yeah. 9 points.
ii. Batting Stance/Face (6) I'm scared he's going to hurt himself when he swings and misses. 9 points.
iii. Power & Average (6) Cycle!! 10 points.
iv. Line Drive v. Fly Ball (3) Oh, let's say 4 points.
v. Chatty (3) Haven't seen much. 4 points.
vi. Selflessness (7) Well, he is playing for a contract, but I don't get any Drew vibe from him. 12 points.
Dugout/Clubhouse
i. Press Conferences (4) Pretty direct. 6 points.
ii. Quotes (4) Eh. 5 points.
iii. Chatty (4) He was very excited for Molina. 7 points.
iv. Fights (3) I think he'd be right in there. 5 points.
OFF FIELD
Personal Hygiene (8) Every day after he has the night off, he's got different facial hair, but it's never a soul patch. 13 points.
Commercials - local (4) No. 0 points.
Commercials -– national (5) No. 0 points.
Commercials - MLB (5) No. 0 points.
Dress (5) Couldn't find anything bad. 8 points.
Rumors (3) He's on the short list of Sosa boom box destroyers. Which is awesome. 6 points.
Awards (3) All Star. 1 point.
Mark gets 138 points, about what I figured, not a Scotty or Albert, but very nice.

Eckstein
ON FIELD
Defense
i. Hustle (5) It's his claim to fame. That and being tiny. 10 points.
ii. Agility (7) He jumps and leaps, but sometimes he's a little too short. Nothing you can do about genetics. 12 points.
iii. Catcher? (5/0) No. 0 points.
iv. Awareness (4) Has to be. 8 points.
v. Defensive Stance (6) Nice. 9 points.
vi. Pitching Face (5/0) No. 0 points.
Offense
i. Hustle (5) See above. 10 points.
ii. Batting Stance/Face (6) Wiggly, but nothing distracting. 9 points.
iii. Power & Average (6) Power? No. Average? Good. But he's doing his job seeing pitches. 9 points.
iv. Line Drive v. Fly Ball (3) Pretty good mix. 4 points.
v. Chatty (3) Not really. 3 points.
vi. Selflessness (7) He tries to get on base by hook or by crook. 14 points.
Dugout/Clubhouse
i. Press Conferences (4) Nothing really stands out. 5 points.
ii. Quotes (4) Much like his hair, a little bland. 5 points.
iii. Chatty (4) Not terribly that I can tell. 4 points.
iv. Fights (3) You really think he's going to start something? 1 point.
OFF FIELD
Personal Hygiene (8) Here's the thing. His hair is the same color as his skin. He's someone who could benefit from a goatee or something. 12 points.
Commercials - local (4) No. 0 points.
Commercials -– national (5) No. 0 points.
Commercials - MLB (5) No. 0 points.
Dress (5) Haven't seen anything terrible. 8 points.
Rumors (3) Um...people think he's Jewish and he's not. But that's not really a rumor. 0 points.
Awards (3) No. 0 points.
Eckstein has 123 points, which is a little lower than I thought he'd be. I guess if he were a little...spicier...David's score would be higher.
Maybe I'll redo everyone over the All Star break.
Yadi, Yadi, He's...
Oh, I already said that, didn't I? Well, after going 4 for 4 with 4 RBIs and two doubles, it merits repetition. But come on, kid. No one picked off? You're slacking.
After two close games against the
Pirates
, I was ready for a blow out. And if you started watching in the late innings, you'd know it was a laugher even without looking at the score. Al Reyes hit for himself. Einar Diaz played first base. I knew the game was going to be silly from the start: La Russa was goofing around with Walker in the dugout and forgot to sign the lineup cards. Unnaturally relaxed, I'd say.
(By the way, Eckstein and TSSWMNBN both have two home runs. Eckstein's hitting .299/.368/.390 with 15 RBIs. TSSWMNBN is at .246/.296/.347 with 14 RBIs. And Curt Schilling can shut up at any time.)
Later on today, I will finally get the PWF for Eckstein and Grudzielanek up.
Wednesday, May 25, 2005
Yadi, Yadi, He's Our Man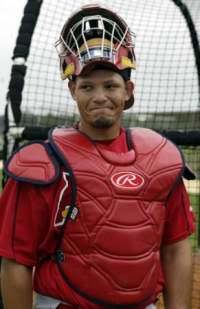 I thought about liveblogging the game last night, but my notes are filled with icks, blechs, stop throwing balls, you don't run on Yadis, and Bucknor, you're an idiots until I lost interest in keeping a running log sometime in the 8th.
Watching the team mob Yadi reminded me of his last game-winning hit. It was, I believe, Walker's second game with the Cardinals. As everyone jumped up and down, banging Molina on the head, Morris pulled Larry into the scrum. Last night, Grudz was out on the top step, Eckstein gave Molina a bear hug, and it looked like Mulder was working Molina's midsection. Al called it by the way-Joe said Molina could be a late-night hero, to which Al said, "He'll be the hero," so matter-of-factly you just had to believe him. And after strike 'em out, throw 'em out, was there any question Yadi would get the winning RBI?

(I actually don't remember where that picture is from-so if it's yours, let me know)
So. The rest of the game. C.B.'s simply
outstanding
performance behind the plate rivaled that of
Dale Scott's
in Atlanta. Pujols did say the magic word, but it was clearly not directed at the umpire. Guess ol' C.B. had to fill a quota for face time. Marquis is one lucky s.o.b. who owes the entire team dinner. Duncan was talking to him between innings, and he did only give up one run, but his line was not good. The bullpen has indeed seemed to turn around. Although, I very much hope Mulder can go eight innings tonight; I don't want to miss Cody McKay's knuckler.
Monday, May 23, 2005
Tales of the Minor Leagues
The Memphis Redbirds were in town for a four game series against the Padres' AAA team this weekend. Saturday's game was rained out, so I enjoyed the double header yesterday. Perhaps a little too much, as my notes from the end of the second game are incomprehensible.
For the first game, I sat in PGE Park's Beer Garden which has a nice view of the plate from the right field line. Also, it's very close to where the Redbirds were doing their stretching, which was...nice. Chris Gissell started the first game. I didn't see him get above 88 mph, so he wasn't blowing it by anybody, but he held the Beavers to two runs. It was not a good day for Cardinals shortstops. John Nelson air-mailed a couple of throws to first. Memphis couldn't get it going after the rain delay before the 6th inning-they gave up a three-run lead. Raul Gonzalez and Chris Duncan both had 2 run home runs. Redbirds 5, Beavers 6.
For the second game, I moved to a few rows behind homeplate since Adam Wainwright was pitching. He's very very tall. And has a nice pick-off move. He gave up two home runs, but they were solo shots. It's a good thing Kerry Robinson sucks, or the score would have been worse. I'm going to blame my heckling of Kerry on the fine, northwestern brewed products. I do think he heard me ask after he struck out if he would sign my copy of Three Nights In August. Wainwright left with score tied (2 run home run by Internet Hero John Gall), but Cali couldn't keep inherited runners from scoring. Redbirds 2, Beavers 4.
Some things that won't be in the boxscore: Duncan is a big guy; Gonzalez, who is not, draws pictures with his bat when he comes to the plate (I'm sure it's a cross or something); the Memphis manager waved at me when I asked who was pitching the second game, I guess he didn't hear the question. I went to the stadium Saturday before the game was called and saw lots of Cardinals officially licensed merchandise. Less on Sunday, but I met several Cardinals fans-most of which are not from the Midwest and had never been to Busch. All were very nice, and one even remembered the line up from 1967, despite being from Washington.
I also saw one of the most disturbing things I've ever seen. A little boy, maybe nine or 10, wearing a Pujols shirt and a
RED SOX HAT
. I just kind of stared at him with my mouth open and emitted a guttural "Eecchhh." I should have notified Child Services.
Saturday, May 21, 2005
A Dying Breed
There are recent pictures of the new ballpark up at
ballparkcontruction.com,
and it looks very pretty. But I will be quite sad to see Busch II demolished. I've never seen a Cardinals game outside of that stadium.
I've been to a playoff game, gotten heat exhaustion, cheered McGuire home runs, attended Cubs series, witnessed a particularly ugly example of racism, watched a mother ignore her small children during a hit and run, gotten drunk with my parents, gotten drunk with friends, stared with my mouth open at the greatness that is Albert Pujols, screamed wildly at a double steal, clasped hands with my mom as we jumped up and down for an RBI base hit into the right field corner, looked for the green- and red-lit arches while driving across the Mississippi coming home from college for Christmas, seen blow outs on both sides, planned vacations around homestands, and kept score at every game since I can remember-all right there in that concrete bowl with the bright red seats.
I am excited about the new stadium. If I had the money, I'd buy one of those condos they're going to build across the street. But it won't be the same. There are all sorts of "retro" ballparks now. Busch III will just be the latest in a long line. There are only a few really, truly old-fashioned ballparks (Fenway, Wrigley, and Yankee Stadium off the top of my head [Why is it that my three most hated teams are in really truly classic parks?]). I don't think they will be building homages to the multipurpose stadia 25 years from now. However, sentimentally, it would be nice if at that point in the future, the Cardinals' home field could be seen as an actual throwback rather than a variation on a tired, trendy theme.
There better be a hand-operated scoreboard.
____________________________________________
How 'bout that Grand Slam by Mabry? I was, of course, in the car. And for the second game in a row, the starter did not get along with the strike zone. But we won, so I don't care. Silly Royals.
Wednesday, May 18, 2005
These Kids Today
I was checking the score on my phone while driving home and saw that it was 5-0. Knowing that Pujols had hit a 2-run home run, I at first thought Nunez was responsible for the three runs. Then I saw that Yadi hit his
first homer of the year
. I had to check the game log to make sure (my fellow drivers were thrilled, I bet). And, yawn, he picked off
another guy
. I wish he was eligible for ROY.
After living with a revolving bullpen over the past few weeks, it's good to have some sanity restored. Well, except for King's bizarre ineffectiveness and Izzy's propensity for inducing myocardial infarctions. I continue to be very enamored with Thompson. Watching the 9th inning again, I had the thought that maybe Izzy wanted to face Abreu all along. Jason made him look so silly swinging at those curves, I'm going to tell myself that loading the bases was all part of his little plan.
Philly has been quite kind to Cardinals without home runs. You're next, Marquis.
You know, interleague play is so unfair. This weekend the Redbirds play the Royals. The Cubs get the White Sox. Poor, poor Cubbies.
Tuesday, May 17, 2005
Messy
Where's a rain out when you need one?
Good things from tonight's game:
I missed the second inning.
Grudzielanek got his 1,500th hit.
Eckstein hit a homer!!
Bad things from tonight's game:
Not taking advantage of the Phillies' many, many errors.
Suppan, obviously.
Jerks in the stands grabbing at Albert.
That game sucked. And it ended early enough out here that I'm stuck with a whole night of annoyance. Maybe someone will spike Lieber's cheesesteak tomorrow.
I got nothing.
Monday, May 16, 2005
Sometimes You Can Go Home Again
New York natives Marquis and Morris pitched very well this weekend. Poor Marquis, such a nice outing ruined by Cliff Floyd. And despite the Obligatory Morris Home Run (OMHR), it sounded like Matty was making the Mets look a little silly. Maybe Mulder's
issues in New York
stem from confusion between Famous Ray's and Ray's Famous. Mabry and Mabraham Munez filled in more than admirably for Molen and Mujols.
Why didn't the Cardinals run rampant on Friday and Sunday? Even if the "throw" Piazza made yesterday was atypical for him, I think Yadi could probably steal a base on Mike.
It was so nice to have Izzy back. How he got Jose Reyes to accept a walk, I'll never know. The man had only walked four times all year until Saturday. Plus, he fell for the fake-to-third-throw-to-first. Speaking of, Brad Thompson continued to impress.
Oh, off days. You are so boring. I am enjoying the Brewers losing to the Nationals. How bad is the Central when only one team is above .500. It's a little embarrassing.
Thursday, May 12, 2005
I'm Not Old Enough To Lose Whole Hours
I listened to the game today and realized in the late afternoon that I remembered almost nothing about it.
Here's what I got:
The strike calls were very loud.
Eckstein is on some kind of tear, huh?
Albert with 3 strike outs. What the hell? Somebody get his wife on the phone.
When Mike takes an inning off, I always wonder where he goes.
So far, I like Brad Thompson.
Molina picked up where he left off and then some.
Drew has completely forgotten how to play in Busch. Perhaps he should have spent a little more time actually in the field.
I like it when they score 10 runs with no homeruns.
Rolen could be out for up to six weeks. For some reason, I'm just not concerned about him missing that much time. That could change quickly if the platoon goes in the tank, but a combo of Mabry, Nunez, and Seabol is fine. There may be a few liners that get through and some bunts that go for hits, but I'm OK with that. Offensively, we'll never know if Scotty would have gotten hot (.257/.347/.477), so it would be silly to say they'll definitely miss his production compared with Mabry and Nunez.
So, on the 4-4 homestand there were some annoying losses to San Diego and a couple of spankings of the Trolley Dodgers. But how have we done with that pesky LOB thing? Not so super-fantastic. Three guys have left over 10 on base the past eight games: Pujols (13), Edmonds (15), and Rolen (11). The pitchers have also left 10 on, but they're pitchers. Diaz has nine, Walker, Grudzielanek, and Sanders all have eight. Molina and Taguchi both have seven, Cedeno's at five, Mabry has four, and Eckstein has three (all against the Padres). Also, I'd like to see Albert not ground out to the left side for a game or two.
Anyway...
Bring on the Pond Scum!
Wednesday, May 11, 2005
Sonnet I
On behalf of fans, I humbly beseech
The Baseball Gods to forgive my heck'ling.
I meant no harm and I see you must teach
Us to be modest when after a ring.
With the inj'ries suffered, I dare not taunt
A team for it's woes; the Birds have their own.
The one-run losses do begin to daunt
But I keep my chin up; I will atone.
So, on bended knee, I'd like to submit
My apologies for hubris and gall
(Not you, John). I ask that you please see fit
To see our boys healed, O Gods of Baseball.
Thursday we'll see the return of Izzy,
And I dare to hope he'll end our mis'ry.
Tuesday, May 10, 2005
Adding Insult to Injury
I don't like Choi. At all. Kevin Jarvis is on my list as well.
Scotty sprained his shoulder. I hope it heals as quickly as Molina's sprain
appears to be
. But if not, DL Rolen and call up
Seabol
?
I'm distraught.
Sunday, May 08, 2005
Over My Dead Body
Saturday, while drowning my sorrows by reading Cub blogs (it was that or buy expensive shoes), I noticed an effort by some in the
Cubs Blog
Army
to get Neifi Perez in the All Star Game via write-in votes.
Folks, we cannot allow
Neifi Perez
to be an All Star. The enemy is trying to out-dumb us. They know Cardinal fans will vote for a shortstop that actually merits All Star selection. But now is not the time to split our votes with intelligent decisions. I'm not saying David Eckstein is the most deserving, but by voting for him you will pool your votes with thousands from Southern California and many, many 12 year old girls.
You have at your disposal the ability to personally make Cub fans sad. This is an opportunity that cannot be wasted.
Vote Early, Vote Often
.
It's all fun and games until someone sprains an ankle
A sentiment all mothers can appreciate.
Having just gotten his average over .200, Yadi sprained his ankle on first base. I only saw replays, but it looked bad. After the game, KMOX said there wasn't swelling and he was walking on it. So I guess we'll see how Molina feels tomorrow, but I hope we are not without him for too long. Mike Mahoney is being brought up. He's hitting .206/.239/.349-no clue about defense, but he's a 32 year old AAA catcher....
Oh, yeah, the Cardinals kicked ass and took names: 15-5; Brad Thompson made his debut and got the weird 3 "Effective Innings" save.
Saturday, May 07, 2005
The Padres Are Our, Um, Daddies
See what happens after talking smack? Thank god the Cardinals are in the NL Central.
Friday, May 06, 2005
A Total Eclipse of Relief
Turn Around, every now and then I get a little bit mad
That you're never coming around
Turn Around, every now and then I get a little bit tired
Of listening to the sound of called ""Ball""
Turn Around, every now and then I get a little bit nervous
Watching all the hits that go by
Turn Around, every now and then I get a little bit terrified
The signal for the pen makes me cry
Turn Around bullpen, every now and then you fall apart
Turn Around bullpen, every now and then you fall apart
Turn Around, every now and then I get a little bit mad
And I dream of something wild
Turn Around, every now and then you look a little bit helpless
And I'm lying if I say you should win
Turn Around, every now and then I get a little bit angry
And I know I've got to get out and cry
Turn Around, every now and then I get a little bit terrified
The signal for the pen makes me cry
Turn Around bullpen, every now and then you fall apart
Turn Around bullpen, every now and then you fall apart
And we need you now tonight
And we need you more than ever
And if you'll only hold the lead
We can go on hitting forever
And we'll only be making it right
Cause we'll never be wrong
Together we can take it to the end of the game
Your pitching is like the major sucking of all-time
I don't know what to do; you're always in the dark
We're living in a powder keg and giving off sparks
We really need you tonight
But blowing''s gonna start tonight
But blowing's gonna start tonight
Once upon a time you looked really good
But now you''re only falling apart
There's nothing I can do
A total eclipse of relief
Once upon a time there was light in my life
But now there's only walks in the dark
Nothing I can say
A total eclipse of relief
Turn Around, bullpen
Turn Around, bullpen
Turn Around, every now and then I know you'll
Never be the boys I always you wanted to be
Turn Around, every now and then I know you'll only
Give up runs to cough up the lead
Turn Around, every now and then I know there's no one
That can make me as angry and annoyed as you,
Turn Around, every now and then I know there's gotta be
Something better and there's nothing Walt wouldn't do
Turn Around bullpen, every now and then you fall apart
Turn Around bullpen, every now and then you fall apart
And we need you now tonight
And we need you more than ever
And if you'll only hold the lead
We can go on hitting forever
And we'll only be making it right
Cause we'll never be wrong
Together we can take it to the end of the game
Your pitching is like the major sucking of all-time
I don't know what to do, you're in the dark
We're living in a powder keg and giving off sparks
We really need you tonight
But blowing''s gonna start tonight
But blowing's gonna start tonight
-With apologies to Bonnie Tyler
Thursday, May 05, 2005
So Much For Home Cooking
That was an incredibly annoying game.
Things that sucked:
-The bullpen
-Grudzielanek's error
-Cedeno
-The bullpen
-As mentioned by
CardNilly
, Edmonds had hit .583/.667/1.250 off Lawrence. Tonight-not so much.
-King's boneheaded throw to the outfield
-Leaving the bases loaded
-Did I mention the bullpen?
Things that didn't suck:
-Albert has hit in 16 straight
-Molina's arm
-Triple play
-Ummmm...
Matty did fine, not tremendous, only three runs (2 earned) through seven (all off a homerun). Stupid, stupid bullpen. Others have broken down the
bullpen
situation
better than I can. All I can add is that I am extremely bothered by the recent efforts of the relief corps.
Did you ever think you'd be pining for Eldred?
Wednesday, May 04, 2005
You'll Always Have WKRP...
Too bad about your baseball team, though, Cincinnati.
Tonight it's Mark "
I'm so very pretty
" Mulder versus Brandon "
Kosher Dill
" Claussen. Let's see here. Left-handed stud or guy who can't go more than five innings?
What would Pete Rose do?
Tuesday, May 03, 2005
Hangover
Here's what Red Hot has to say so far:
Last night's win by the Cardinals was improbable AND totally unreproducable. It's going to be cold tonight; I hope the Cards brought their long underwear because the Reds are gonna beat the pants off 'em.
It's entirely possible that the Reds win tonight. In fact, I would not be surprised. But even if the Cardinals lose, I don't think they'll go quietly. And they may take a few Reds down with them (Mr. Freel, I'm looking in your direction).
Monday, May 02, 2005
OH MY GOD
I stared at the TV in disbelief.
There was no way. They were down six runs with the 8, 9, 1 hitters coming up. Yadi? Yeah, right. Nunez? The Reds crumpled him last game. Eckstein? Well, you'd think he's coming up with two outs and have a gritty at-bat, but ultimately (at most) get stranded on first.
But oh, goodness.
My only hope was to get Pujols to the plate. He might,
might
, have a chance to make it a little closer. And then, and then,
and then
! One man after another got on base. What was happening? Did they think there was a shot to win this? LaRussa often says that the team plays all nine innings. That's nice, but come on. A complete implosion by the AAA bullpen plus termites to overcome? I thought they might be able to make a sad, feeble attempt, but ultimately fail. And, really, they way they've been hitting, who could blame me?
I wanted them to get blown out (see the
comment
I made over at Red Hot Mama). Something to shake them up. I guess it didn't even take a whole game. For the first time in a long time, the boys looked like they knew what needed to be done, and knew they could do it. That is what I remember. That is the team I know. When they say there is no "one" guy on this team-believe it. Mabry, who had been out with a bad hamstring for pretty much the whole season, hit the game winner. Edmonds had gone 0-3 (all K's) until a single, and then he hit a big homerun. Biggest ninth inning come back in Cardinals history.
Relentless.
Now, tomorrow they could totally suck. But it won't take away from the sweet and improbable victory tonight (and the sweetest part was so many of those ninth inning runs were with two outs).
By the way, if for some reason you did not read the comments in the previous post, or haven't gone to
Red Hot Mama
, do so-now. This is going to be a fun season.
Oh, It Is SO On
Red Hot Mama
has laid down the gauntlet.
Mr. Milton, owner of 10 homeruns allowed on this young season, a 1.54 WHIP, and a 6.75 ERA (though, you are under 5.00 at home-good job!), meet Mr. Pujols and Mr. Edmonds. I'm sure no further introductions are necessary. I would also like to remind the Reds that the pitcher they are facing on Wednesday is not the same as the one they faced
April 13
. He's improved
a bit
.
Oh, and Red Hot, how long until Junior's limping off the field? Just when you think he's "coming around," that's when the hammy pops.
I never did get Ryan Freel's signature, so the Reds are not obligated to groove fastballs. No matter. My boys are mad.
(I'm not so good at the trash-talking.)
Sunday, May 01, 2005
Stranded
This is becoming a problem. A Very Serious Problem. Over the last six games, 62 men have been left on base. 62! That's an average of over
TEN PER GAME
.
Today: 13-L
Sat: 10-L
Fri: 7-W
Thurs: 9-L
Wed: 9-W
Tues: 14-W
The worst offender (literally and figuratively) is Molina with 17 LOB in five games. But Jimmy and
Rolen
are right behind him with 15 and 14 respectively (each had a game with six men left on).
Pujols
has left 10 on, Reggie's in there with nine, and
Eckstein
and Walker each have eight.
Grudzielanek
has left only two. (These numbers aren't necessarily with two outs.)
I guess I jumped the gun when I said the offense was coming around. They seem to have regressed a bit (or more than a bit). And this isn't ass-bats. This is something much more insidious. It's like termites. Something is eating away at the bats, creating holes and making them soft. As for calling an exterminator, I think what the team needs is getting it's butt kicked by a bad team. Wake 'em up. Something to remind them that just because they
can
be good doesn't mean they
are
good.
It's a team-wide, giant, sucking, black hole of ineptitude. And it's really getting on my nerves. Somebody owes the pitchers a big expensive gift.