Monday, October 30, 2006
Pinch Me
We got to the stadium early enough to see some warm ups. Our seats were along the third base line and Verlander was doing some long toss in front of our section. He bounced a ball during
long toss
. Maybe this won't be terrible, I thought. Then the players take the field. And I start freaking out all over again: can't sit, can't stand. And then Jeff Weaver strikes out two in the first inning. I feel a bit better. The fact that Verlander couldn't find the strike zone with the help of a neon sign encouraged my serenity.
After the Cardinals scored, Duncan pooped in his pants and on Edmonds' shoes, which was promptly followed by a Casey home run, the Tigers' fans in the suites behind our seats started to make some noise. Well, good for them, it was awfully cute. They had the lead for all of five at bats. After than, well, things get hazy. I looked at the scoreboard and, suddenly, it was the middle of the seventh inning. I looked at the Proxy, and he said, "Don't say it. Just don't." The eighth inning went by in a flash; I think every player just wanted to get it over with. And then, Wainwright was pitching. And I was holding my breath. Even though Casey got another freaking hit and Polanco walked (Hey Placido, this is first base, does it look familiar? I kid. I kid because I love.), I never got nervous. This is Adam Wainwright. I didn't really see the strike out call, I just saw Molina jump up. So I did too. I was jumping up and down on my seat – I have no idea how that happened. We stayed through the trophy presentations, but left before the players came back out. We spent about an hour wandering the streets of St. Louis high-fiving and whoo-hooing while trying to remember where we parked. Then it was on to more celebrating.
So yeah, lots of screaming and jumping and hugging and clapping and "What just happened?" For those who have never been to a World Series game, much less a WS winner at home, when you get the chance this is what will happen: You will dance to songs you hate, you will hurt your shoulders clapping and waving rally towels (something else you
never ever
do), you will cry, you will say something along the lines of, "I'm going to get a Cardinals tattoo if they win," you will lose your voice.
As for the parade, we were in the stadium so I can't really say anything about the parade itself. Tony got a huge ovation. It was nice to be able to cheer this team one last time. I hope to have all the pictures from the game and rally together tonight. I'll put them up as soon as I can.
I hope that everyone, like me, got to celebrate with who they most wanted to be with.
And now, it's time to buy merchandise.
Mel Brooks
was right; I want everything that has a World Series logo.
Saturday, October 28, 2006
My Brain Hurts
I'm not married and I don't have kids. Maybe those days are better than yesterday, but I don't see how.
I'll be at the parade tomorrow, and I'll come back with pictures of the game and parade.
In the meantime, don't talk so loud.
Friday, October 27, 2006
Deep Breaths
I honestly have no idea how I'm going to make it through this game. I'm already a nervous wreck. And the day is going by soooo slllloooooowwwwly. I don't remember 1982; I was five. 1985 and 1987 are a little clearer, but still pretty hazy.
Please be good, Weaver. Please pound the crap out of the ball, Pujols. Please win, Cardinals.
So Familiar
This picture is eerily similar to Jimmy's diving catch in the 2004 NLCS, both end results being excellent for the Cards.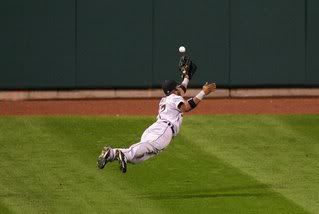 Photo by Jed Jacobsohn/Getty Images
Thursday, October 26, 2006
Game Something-or-other
I'm going to Friday's game.
Will from Deadspin
is going
to Friday's game.
He's bad luck. I'm scared.
But...the way the Cardinals played tonight...I can barely breathe.
Cardinals 2, Tigers 1, Rain 1
That was miserable. Drove home through a light mist, thinking, "Oh, they can play in this no problem." The rain was still pretty light when we got to the stadium about 7:00 and our seats are along the third base line under an overhang (this, however, did not prevent my waking up with a sore throat this morning). But the rain got heavier and heavier. And I got colder and colder. By the time they finally called the game (two hours after everyone else knew it had to be postponed - stupid Fox) the raindrops were swirling so much it looked like it was snowing.
If the rain holds off and the Cards win tonight, our tickets for yesterday will be good for Friday and possibly a fourth win.
Tuesday, October 24, 2006
This Feels Good
That's the Carpenter I know and love. And Zumaya? you may be able to throw 100 mph, but if you can't get near the plate, how can you expect to get anywhere close to third base? I'm very sleepy after last night, and there's not a whole lot to say about the game. Everything worked: Pitching, fielding, timely hits, and taking advantage of the other team's mistakes.
The Other Half
Ever wonder what the big-wigs do the night before the World Series? I hadn't really either, until I got the opportunity to go to the 2006 World Series Gala at the City Museum last night. Free food and booze? I'm there! We arrived after 9:00, so most of the front office types were long gone, but I did hear that I just missed a very trashed Todd Jones. And I saw Dave Campbell and The Strokes. I had hoped that they would be doing the national anthem or God Bless America, but no such luck. I guess they just came for the Bud Light.
2004 National League Champions Ring (on my hand):
Welcome Sign:
One of the dozens of ice sculptures:
It was fabulous. And the Proxy and I got tickets for Game Four.
Monday, October 23, 2006
Kenny Rogers, Cheater Part II
There's nothing that can be done about it now. Rogers washed his hand (as directed by the umpires) and while any remaining residue may have helped him, it's not like he needed pine tar to shut down the Cards last night. He's a soft-tossin' lefty. You tip your very sticky and mysteriously brown cap to him and get ready for Game Three.
Could La Russa have made a more...vigorous protest? Sure, he could have screamed and kicked his hat, but it is the umpires' responsibility to check the hand, hat, and balls. The umpires decided it wasn't a big deal. I don't know why; Rogers clearly had a pine-tar-like substance on his hand and possibly hat.
But Rogers' ever-changing story, Leyland's plausible deniability, the umpires allowing Rogers to wash his hand make this seem terribly suspicious.
Kenny Rogers cheated in two post-season series this year. MLB appears to be trying to sweep it under the rug.
Clump of dirt, my ass.
Sunday, October 22, 2006
Kenny Rogers
Saturday, October 21, 2006
Huh?
We won a World Series game.
The first World Series game won by a National League team since 2003.
Reyes was
out of this world
. 17 retired in a row, the most since 1990. The first win by a rookie since...wait for it...it's coming...1982 (OK, Joe Buck lied to me, it wasn't 1982. It sure as shit sounds better though, doesn't it?). Four hits all game for the Tigers. That's freaking unreal. I don't know how to react; it's been 19 years since the Cardinals won a World Series game and I don't remember how I felt when I was in 5th grade. I'm in disbelief, shock.
If Pujols, Rolen, and Edmonds can all get going...holy shit.
Edit: I just read Bernie's column. He ends thusly, speaking about he rookies:
La Russa may hand out orange slices and little Kool-Aid boxes before Game 2. The Gashouse Gang beat the Tigers in the 1934 World Series. Now in 2006, La Russa is trying to do it with the Schoolhouse Gang.


Put me in line for some Kool-Aid.
Friday, October 20, 2006
Really? Really really?
I kept saying things like "house money" and "everything else is gravy." And I believed those things. I had almost convinced myself that the games really didn't matter. So after Wilson struck out for the third effing time I surprised myself with the strength of my hatred. During the 9th I was shaking. Pacing. Sitting on the top of the stairs with one ear listening to the radio down in the kitchen and the other listening to the delayed TV broadcast. I was a wreck. During that never-ending inning, I migrated to the foot of the stairs where I had to use a door jamb to support myself. As soon as I heard Mike's call, I ran, or rather floated, upstairs to hit record on the TiVo, screaming the whole way.
There's something different about this year. I think it's because it had been so long since the Cards had been to the Series in 2004 that just getting there was enough. And I'm not saying that the pennant isn't completely awesome. But everything is so topsy-turvy this year. Wainwright doing his very best Izzy impression now seems like a foregone conclusion. Molina (I adore him, but he's a terrible hitter) hitting a game-winning home run is totally expected.
The Tigers are a better team than the Cardinals. It's not even a question. I hoped rather than truly believed they'd get past the Padres. I didn't want to get too excited about possibly beating the Mets. And now that both those things have happened, well, as a wise man once said:
Youneverknow.
WORLD SERIES
I...I...I just don't know what to say right now. This team won 83 games during the season. 83.
And they are going to the fucking
WORLD SERIES
.
Wednesday, October 18, 2006
NLCS Games 4 & 5
I again got last minute tickets for Game 4. I did not lose my voice.
Poor bullpen. It's like all those runs they didn't allow before spilled out. It was cold, windy, and drizzly. Blech.
I didn't go last night, maybe could have, but after Sunday's experience, I was more than ready to watch from my house where beers are not $8. Plus, I could just pour it into a Busch Stadium cup, which I'm sure is commemorative of something. We don't have Kosher Dogs or Fried Cannelloni, though.
I still can't believe Weaver. I mean,
Jeff Weaver
?? And Molina hitting more than his weight? This is the most backwards, black-is-West, up-is-water post-season. I said it during the NLDS, we're playing with house money. When we won that series, everything else was gravy. But to be one win away from the World Series...I can't think of a metaphor big enough.
Sunday, October 15, 2006
NLCS Game Three
I got last minute tickets. I lost my voice.
The first playoff game I went to was Game 3 against the Mets in 2000. The Cardinals didn't do very well that game; I don't think they scored until the 7th or 8th inning. And for a minute last night, when Eckstain got picked off, I was sure I shouldn't have gone to the game.
Oh, I also saw Glavine and Maine in the Westin bar. The proxy informed the future HOFer that he had a cocktail napkin stuck to his shoe.
Friday, October 13, 2006
NLCS Game Two
The Gooch!
Speezer!
Molina!
Bullpen!!!
Jimmy!
I figured the Cardinals would win this game, but I thought it would be because of Carpenter. I didn't think that they'd beat the Mets with offense. It's very nice to see hits strung together - and a couple home runs don't hurt.
Now, do it again tomorrow.
Thursday, October 12, 2006
NLCS Game One
How much can you really ask of Weaver? He pitched one hell of a game, made one (very) bad pitch to Beltran, and left with the L. Weaver deserved
so much
better. It really got my hopes up.
Is this the beginning of the October Bat Freeze? I know they can't hit lefties, and there were a lot of hard hit balls. But, gah, let's score some runs at some point during this series. I don't think Rolen will play game two. At least, I really hope. His swing looks better, but I haven't seen that many pop-ups since the Tino days. The bullpen continues to be lovely, however.
This was more of a must-win for the Mets than the Cardinals, but damn, it would have been nice to steal.
I'm supposed to go see a movie tomorrow night. I'm not happy about that.
Wednesday, October 11, 2006
Hug A Yankees Fan
Sunday, October 08, 2006
No Question
The Cardinals MUST resign Belliard next year.
We're playing with house money here, folks. The Cards aren't supposed to be here. This team sucks, remember? Anything in the postseason is gravy. Going to the NLCS is crazy. Bring on the Mets. After all...
...the Mets are pond scum.
I'm going to go get drunk.
Thursday, October 05, 2006
Game Two
Weaver=2 freakin hits???
Bullpen=no runs???
The terrible horrible Cardinals=Up 2 games to none???
Life is good.
Wednesday, October 04, 2006
From the Proxy
photo: REUTERS/Fred Greaves (UNITED STATES)
What did he do? Lose the ball in the shadow of his former self?
Tuesday, October 03, 2006
Game One
That was an unexpected outcome. I hoped they'd win, I wanted them to win, but but but...the bats, the bullpen, etc. Never did I think we'd get five runs off of Peavy (who whined like a little girl after the game) and hold them to just one after Carpenter. I was out and about this afternoon and got back into my car just in time to hear Albert's home run. And Rooney's call of Belliard's catch gave me goosebumps. It was lovely. The only thing I had an issue with was taking out Belliard and replacing him with Miles. It didn't really matter, but god, getting thrown out at second like that? We might see Aaron again in garbage time, but ugh. So bad. Belliard is the key - you heard it here first - Belly (see that? Clever, huh?) will win us a lot of games.
As I said to the Proxy this evening: If (he didn't want me to jinx the game in the ninth inning) we win Game One....
NLDS Roster
No Reyes. I don't get it, either....
From Bernie:
Pitchers: Carpenter, Weaver, Suppan, Marquis, Kinney, Thompson, Hancock,
Looper, Wainwright, Johnson, Flores

Position players: Molina, Bennett, Pujols, Belliard, Miles, Eckstein,
Rolen, Spiezio, Duncan, Edmonds, Encarnacion, Wilson, Taguchi, Rodriguez
Whatever. It must have something to do with his pitching only two days ago. Not necessarily his performance (though it sucked), but availability. I'd rather see him throw his side session to live batters than see Marquis out there ever again.
Sunday, October 01, 2006
Congratulations
Hooray for the 2006 NL Central Division Champions - the 83-77 St. Louis Cardinals. I'm very glad, but I'm not going to be eating antacids like they're candy this year. I'll do a nice little wrap up later tonight or tomorrow. Right now, I'm going to watch the rest of the game, hoping that they can get more than two hits.