Sunday, July 31, 2005
Trade Deadline & Dodgers
You don't want to make a trade just for the sake of doing something, but today was pretty anti-climatic all around. There were some rumors about the Cards getting Lawton, and if all it took was Gerut from the Cubs, I wonder what Jocketty offerred, if anything at all. Maybe Hendry has some pictures of the Pirates' GM or something. Oh, well. Time to start making a list of guys with biggish contracts that can get through waivers. (As an aside, is there anyone flakier than Manny Ramirez?)
I missed most of Friday's game. And a good thing, too, I think. What a stinker. Morris appeared to have had his head, well, you know; two errors; 11 LOB. Saturday much much nicer. It was on Big Fox out here, so I wasn't a minute behind listening over the internet. Edmonds getting a home run-that's no big deal. Mabry, yeah that's not out of the ordinary. But Eckstein? Cool. The little guy had a double, too. So did Suppan, come to think of it. Still left 10 on base, though. Today wasn't very pretty, but a win's a win, right? The Cards had nine walks and nine hits, Dodgers had 10 walks and eight hits. Both left 10 on (seeing a pattern here?). Not exactly a clinic put on out there. These suicide squeezes are getting routine. I don't want La Russa to stop putting them on, I love them, but if
I
know it's coming-everyone must know. Poor Rodriguez, no hits in a game for the first time, though he walked twice and had a very nice assist. Jimmy sure saved King's bacon today. And that's all I'm going to say about Ray. I'll take four of six on a quick West Coast trip every day and twice on Sundays.
Quick turn around and the Marlins and Braves are in town starting tomorrow. There'll probably be about six runs total in those seven games.
Thursday, July 28, 2005
What I Did Over My Summer Vacation
Here's a tip: Don't start a new job the day after you return from vacation. It will kick your ass (similar to
this
).
I was able to get to four games.
Sunday
against the Astros,
Wednesday
(thanks,
Scott
!!) and
Thursday
against the Brewers, and
Friday
against the Cubs. I took some pictures on Friday, but jumping up and down makes for blurry shots. I did get some nice pictures of New Busch, if any other out-of-towners are interested. There is something I really don't like about it, though. The "B" is up -- and it looks a little too much like a Boston Red Sox "B," but a tad less pointy. Sunday's game was fantastic. I love that they got three runs off Clemens who hadn't allowed that many on the road all year, I believe. I've never seen anyone pimp like Rodriguez did during his curtain call Wednesday. He was not so much with the humility, but it was his first and it was funny. I really, really don't want to call him J-Rod. Somebody's got to come up with something better. I noticed in that game that Mulder doesn't hitch up his pants after every pitch anymore. Maybe that was his problem-poorly fitting pants. Thursday, ugh. Errors, bad throwing decisions, Marquis not on his game, etc. I haven't been to a Cardinals/Cubs game in a very long time, so Friday was a lot of fun. They showed Jack singing Take Me Out To The Ballgame in Wrigley from a few years ago during the seventh inning stretch. Some Cubs fans (and a few people ostensibly there to root for the Cardinals) in our section kept looking into the radio booth to see him. Yeah.... I'm still annoyed that they don't do the Cubs Cap Dance anymore. Suicide Squeezes are great.
The
Grudzielanek
GG in '05
campaign has begun, with Dan and Al chiming in during today's broadcast. Sure, why not? The on-field microphones were quite sensitive today. Carp said a very bad word after striking out and I caught just about all of Nevin and the umpire's tete-a-tete, none of which was suitable for younger ears.
Monday, July 25, 2005
Uncle
Four starters, including two thirds of the outfield, on the disabled list. One of the replacements twists his ankle on a nail. John freaking Gall gets called up. Add in Edmonds' hamstring and Pujols' shoulder and things are very ugly. Our OBP (.309) is better than only the Nationals this month.
The Cardinals are hurting. Badly.
It's probably the jet lag and such, but when I heard about Walker I got this horrible feeling in the pit of my stomach thinking about the lineup. I pictured a black cloud hanging over Busch Stadium. The good thing is Yadi and Reggie will heal. I don't know about Larry, but I'm optimistic for some reason. Rolen...well, I think Rolen's going to be just fine next year.
I'll call it a July Sigh and put my fangirl hat back on, but this crap is getting really tiresome.
Sunday, July 24, 2005
Let's Go Memphis Redbirds!
I hope all of Lee's bats warped in the humidity. I hope Dusty Baker is proclaimed Cubs Manager For Life. I hope Wrigley is taken out by a tornado.
I hope when I check the score on my phone after getting off the plane I'll see that the Cubs were humiliated.
Friday, July 22, 2005
Goin' On A Bear Hunt
Going to the game tonight. Carpenter and Zambrano. Heat Index around 100. Good times.
Monday, July 18, 2005
So when do we start calling him Khris Karpenter?
Friday, July 15, 2005
Number 5 In Your Programs, Number 1 In Your Hearts
ALBERT!
I can go to St. Louis happy tomorrow.
Now It Counts
Ok, while waiting for my laundry to dry I'm finally going to put up my thoughts about
Oh Say Can You Sing
? Because I am the type of person that watches the extras on DVDs before the movie itself, I watched the bonus DVD before listening to the CD. The tour of Ozzie's memorabilia room is a little awkward for me given
what's going on with him
, but it's still cool to see. The DVD is totally worth it. Now, I know diddley about music; I can't even remember the last CD I bought. However, I've decided we should trade for Aubrey Huff. He's got some pipes (but he has a teeny tiny dog). And what kind of girl would I be if
With Or Without You
didn't turn me to mush? The music isn't cheesy and it's a cool thing for superfans (and let's face it, if you're reading blogs-you qualify), plus there are good charities involved. And if you ever meet any of the players you can have something to say besides, "Uh, you hit good."
There's finally meaningful baseball again. My dad was talking about how hot it's going to be at Sunday's game. I said since it's Clemens and Carpenter, the game will probably only last about an hour and twenty minutes.
Come on Cardinals, remind the Astros who's boss.
Wednesday, July 13, 2005
Random Bits
Instead of spending the All-Star break updating the PWF, I've been interviewing for a new job. Since that task has now been accomplished, I can turn my attention for the next week and a half back to baseball. I will be leaving this weekend for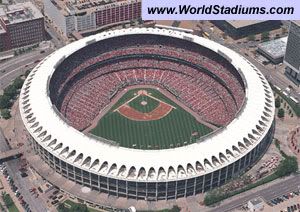 so I'll have some first-hand tales, rather than just Extra Innings to go by. Plus, I get my
Jimmy's Catch
doll. I am going to try to get the PWF for the rotation and starters up before I go, but I may work on a way to simplify and shorten it.
There's lots of
good
stuff
at McSweeney's today. The first piece is particularly recommended.
Thanks to everyone who stopped by both here and Red Hot Mama last night. Alas, all our smack was for naught as the National League lost again.
Tuesday, July 12, 2005
The All-Star Game
I know he's promoting a movie, but I love that Billy Bob Thornton is at the game. Every interview I've seen with him has been along the lines of, "Yeah, it's a fun flick. Cardinals. Cardinals Cardinals Cardinals. Cardinals...Cardinals." I'm very shallow.
After all the bitching and moaning about Sunday's late game, it seems the
flight
to
Detroit
was acceptable. I'm
very
excited to see George Kissell at the game tonight. No one outside of St. Louis is going to know who he is, but it will still be very nice.
As for the American League, well, it's barely even real baseball. They play in domes. On fake grass. They have a team with the second highest payroll in the game that still tries to portray themselves as some sort of underfunded, loudmouthed rebellion. I mean, come on. How can there be an entire league where one guy doesn't even play defense? And one guy who never hits?
Sounds like cheating to me.
Red Hot Mama and I will be making fun of these and other topics tonight as Tony La Russa tries to
manage his ass off
. This could be very interesting, seeing as how the AL lineup gives me nightmares. Feel free to add to the smack-fest if you have something mean to say about the American League or any of it's players (not too mean, you know -- more along the lines of, "Manny's awfully lucky he can hit a baseball-I don't think he's even literate," "Hey, Kenny, can I take your picture?" or "The Devil Rays' uniforms are a travesty-contract them now."). We'll see if there's any truth to the Hrabosky-started rumor that Joe Buck will wear a Cardinals jersey just to annoy the East Coast.
Monday, July 11, 2005
My Heart Is Leaving San Francisco
Various All-Star Game things:
Rolen's not going
. Rolen's pulling out isn't really that surprising, but it makes me nervous about the real condition of his shoulder. They did fine while he was out, and his defense isn't hurting, yet the team needs him hitting at full strength. I think everyone pretty much agrees he came back too soon. There's more in the
P-D story
, which says a rehab assignment may be revisited.
Carpenter will be the starter
. That's awesome. He'll only pitch a couple innings. Still, cool. I bet part of it is the only one stolen base against him in the past season and a half. Gotta have something to counter rag-armed Piazza. How many teams have two All-Star Game starters on their staff? So, in the lineup it'll be Jimmy, Eckstein, and Pujols as the DH with Chris pitching to begin the game. After his last couple of games, bringing Izzy in to save might be scarier than it's worth.
I don't know what's gotten into the defense. Other than Walker losing the ball in the first inning tonight, it has sparkled. Everyone brought their fancy gloves on this trip, I guess.
Oh, and Joe Morgan is an idiot.
Saturday, July 09, 2005
Sittin' On The Dock Of The Bay
I really wish Yadi wasn't broken, I'd love to watch him and Matheny in the same game.
Nice little piece
on them at the official site with good news on Molina's hand.
Larry's home run was an absolute BOMB. 455 feet. Mulder was at 73 pitches when he was pulled after the seventh. Eh? I guess they wanted to get him out before anything bad happened? Or Reyes needed work? Whatever, it was weird. He looked good, 14 ground outs to five fly outs, four hits, one walk, one HBP (and it was a cheapie-grazed the jersey). Don't care about only one strike out, cause he's not that guy. Some more on
Project: Fix Mark Mulder
from Mychael Urban via Miklasz. I don't know how any of the pitchers kept things together on the mound. The strike zone was very confusing. Sucks to be Scott Rolen, getting doubled off of first like that. But the defense makes up for that gaffe.
The Giants' announcers were pretty good, but I quickly tired of one of them calling players "Meat." It's cute once. I must commend the camera placement, though. There's one right behind home plate, which was lovely when Matheny was catching (Diaz, not so much) and one from the dugout that was equally fine during replays of Jimmy's at-bats.
From the "You like me, you really really like me" files,
Bernie's Bits
(italics mine):
"The Cardinals quietly are trolling for a lefthanded reliever and would love to get Billy Wagner from Philadelphia (obviously). Wagner will be a free agent after the season and has said many times that

he'd like to pitch for the Cardinals

. Many teams will be grappling to land Wagner before the trading deadline."
I can hear lboros giggling like a schoolgirl from here. Maybe we could also go after noted Cardinals fan Mark Buehrle.
I just saw what
La Russa called ESPN
. Daaamn. Also explained is why Mulder left-tweaked groin, not serious.
Friday, July 08, 2005
What Goes Around Comes Around
Poor, poor Jason Marquis. He pitched eight innings, had seven strike outs, four hits, one walk, and lost. His bad luck the bats were asleep.
(OK, Jason didn't get the loss [thank you very much, Ray King], but the point holds.)
I was concerned about this game going in, what with Marquis pitching and having already won three games. Turns out my fears re: Marquis were unnecessary. Now I'm just scared about
Yadi's hand
. Basically, the pinkie is broken in his catching hand. I don't ever want to see the Diamondbacks again; I'll never forgive Cintron. And Vargas is on the list now, too.
Everyone's
discussing
Marquis
batting
last night. Just to throw my two cents in, I'm with lboros and Scott on this one. I don't even really see it as a big deal, given what options were left.
Thursday, July 07, 2005
Suicide Blonde
Poor, poor Javier Vasquez. He pitched nine innings, had eight strike outs, three hits, no walks, and lost. His bad luck going against Chris Carpenter. After that 30 pitch first inning, Carp settled very nicely. But why did it have to be Alex Effing Cintron that hit the home run? I hate that guy. Rolen gave him a dirty look as he trotted to third.
I've watched the game twice since it ended (once ESPN's version and the FSN Arizona version again). During the game I nearly gnawed off all of my fingernails. Pitchers duels are so much more enjoyable when you know the outcome. I'm going to give Izzy a pass on the two-runners-allowed thing since he got his 200th career save, but I've thought about sending him the bill for the gastro-intestinal specialist I'm sure to need by the end of the season.
From the AP story: "I hope my smile didn't give it away," the St. Louis leadoff hitter said. "I love that play."
Wednesday, July 06, 2005
Geez
I'm still waiting for my heart to start beating again. What a game.
An Oven Is A Dry Heat, Too
Now that I'm very sunburned and can't go outside, back to baseball. RHM very kindly wrote a
long, lovely
response to my question about Kearns. I didn't even think about it until after she put all that effort into her reply, but Jocketty's not going to name who he's going after. Sigh. I'm so sorry, RHM.
Poor Brad the Rad, giving up that home run yesterday. But when you're up by nine runs, it's understandable to lose a little concentration. I really like getting so many runs without a home run; HRs are certainly lots of fun, but it's always nice to know you don't need them. I think Molina's getting a little paranoid about people stealing signs, though. Tonight, Suppan did what he does; a fair amount of baserunners, but got out of the jams mostly unscathed (only run on a sac fly) working at a glacial pace. Albert hit the ball all over the place and made some
pretty
plays, Taguchi hit a home run, Rolen's looking better and better, Izzy did the dumbest thing a pitcher can do by bare-handing a hit -- I swear, I stopped breathing. Grudzielanek's slump is getting really bad.
I never wish injury on a player, even a Cub having a career year, but this is classic Cub. They get Wood and Prior back and now
Lee's injured
. How long he'll be out is unknown right now, could just need some rest (he's apparently been playing with it for a while -- which is pretty amazing), but it reminds me of Edmonds in 2003. And that wasn't good.
Sunday, July 03, 2005
All-Star Selections -- LIVE
Or, typed live, posted after.
Today's game was a very satisfying win. Coming from behind, though I never like for that to be necessary, is exciting. Shannon was complaining early on that Mulder wasn't pitching inside to anyone, so when he threw behind Wilson, Mike nearly came out of the booth, he was so happy. Of course, this game wasn't on TV, so I don't know what Mulder's deal today was. But he did
seem
to get it together after that pitch to Wilson. And Nunez got the game-winning RBI for his new daughter. Oh, I just saw the highlights -- Yadi was running his little heart out. Also the Cubbies lost.
OK, on to the All Stars.
Bernie spoiled
the Cardinals' results (I also saw
this
over there, I asked RHM about Kearns, we'll see what she says).
NL Outfield: Kruk says Bobby Abreu, Carlos Lee and Andruw Jones, Harold agrees. Gammons picks Cabrera instead of Lee. It's Abreu, Jimmy, Carlos Beltran. Harold is surprised by Edmonds, Kruk by Beltran. Edmonds got the most OF votes.
NL 1st: Everyone picks Lee. Yeah, I'm petty, but Albert is
gracious
.
Oh, they go straight to the lineup: C - Mike Piazza; 1B - Derrek Lee; 2B - Jeff Kent; 3B - Scott Rolen; SS - David Eckstein, OF - Carlos Beltran, Jim Edmonds, Bobby Abreu.
Kruk disagrees with Rolen (yeah, it's a little much, but he's getting better), likes Piazza, says the catcher in the ASG isn't a defensive position. Well, let's wait until the AL runs wild on him.
AL Lineup: C- Jason Varitek; 1B - Mark Teixeira; 2B - Brian Roberts; 3B - Alex Rodriguez; SS - Miguel Tejada; OF - Johnny Damon, Manny Ramirez, Vladimir Guerrero; DH - David Ortiz.
Yikes.
NL Pitchers: Smoltz, Fuentes, Willis, Clemens, Lidge, Pedro, Peavy, Carp, Izzy, Cordero, Hernandez. That's some good pitching. Gammons picks Clemens to start (an American icon? I'm going to take overkill for $500, Alex.). Harold picks Willis. Kruk goes with Livan Hernandez. Was he dropped as a child? Livan is a fine selection, but Kruk is dumb.
AL Pitchers: Buehrle, Garland, Colon, Halladay, Rogers, Santana, Ryan, Nathan, Rivera, Baez, Duchscherer, Wickman. What to do with Kenny Rogers? I don't think he should go. Kruk would start Halladay. Gammons says St. Louis Cardinals Fan Buehrle.
NL Reserves: C - Paul Lo Duca; 1B - Duh, Albert Pujols; 2B - Luis Castillo; 3B - Aramis Ramirez; SS - Cesar Izturis; SS - Felipe Lopez; OF - Andruw Jones, Carlos Lee, Moises Alou, Jason Bay, Miguel Cabrera, Luis Gonzalez. Gammons says Guillen overlooked. Larry finished 5th. No Ensberg. Interesting.
AL Reserves: C - Ivan Rodriguez; 1B - Shea Hillenbrand, Paul Konerko, Mike Sweeney; 2B - Alfonso Soriano; 3B - Melvin Mora; SS - Michael Young; OF - Garret Anderson, Ichiro Suzuki, Gary Sheffield.
Tony's coming up. He's excited about the club, wants to be protected in the case of extras, will look at the starting pitcher this week. He's very happy for David. Gives a shout-out to Grudz. Wow. This is one helluva bland interview. Francona's interview is pretty much the same content, delivered much less lawyerly.
Jeter's only shot at going is
the last man vote
. Ha ha ha ha ha.
[Update:
Here's
a final vote total list.]
OK. I hope I spelled all the names right. Red Hot Mama and I will engage in smack talk for the All-Star Game, but it will be directed at the American League instead of each other. Should be very interesting. The Cardinals head out west to see the Diamondbacks and Giants. Have a happy and safe Fourth of July!
Friday, July 01, 2005
Joe Migraine
Perhaps my brain electronics were trying to warn me about going against a rookie left hander who can't pitch very well
away
from Coors. The nausea, the sensitivity to noise, the hiding under the covers -- they weren't just because of the pounding the Cards took last night. Ah, well, Carpenter's pitching tonight.
New
Fantasy
Baseball
Advice. If the Southsiders are indeed calling Iguchi "The Gooch," they stole our nickname for So. I propose a seven-game series occurring in late October to decide who holds the rights to said nickname.