Saturday, December 31, 2005
Happy New Year's
I've been gone so long I forgot what the internet looked like. I hope everyone's holidays were/are good ones.
Friday, December 23, 2005
Seasons Greetings From Walt Jocketty, Part II
Part I
'Twas the night before Christmas, and at the new park
I could only get non-tenders, it was quite dark,
The stockings were hung on the debris with care,
Even St. Nicholas couldn't cure the despair.
The owners were nestled all snug in their beds,
While visions of dollar signs danced in their heads,
And Luhnow with his spreadsheets, and I with my spite,
Were just resting our brains from a long winter's fight...
When out on the rebar there arose such a clatter,
I sprang from my desk to see what was the matter.
Away to the "field" I flew like a flash,
Thinking all the while, "Is Looper a big splash?"
The moon glistening off the new brick facade
Made me glad the answer would not be J-Rod,
When, from a trailer the head foreman came out,
"I know that you know some fans are starting to shout."
His gravelly voice sounded familiar somehow,
As I tried to place it I furrowed my brow.
Said he, "Too bad you had to show Grudz the door,
But every fan knows you've put together the core:
"There's Scotty, Chris, Brad, Yadi, Albert and Izzy,
Edmonds and Mulder and, um, I guess Larry Bigbie?
See, now, it's not so bad. Yes, there's work to be done,
But I've never known you to lose in the long run."
How did he know me, this man in the hard hat?
Standing there, telling me to find one more bat,
Sure, I'd abandoned my original plan,
But I knew as he spoke he was no mere fan.
And then, in a twinkling, I saw what this meant.
As I started to ask just why he was sent,
He shook his head slowly and looked me up and down,
His gaze told me I would not get run out of town.
He named the free agents and potential trade bait,
And he even knew the relievers' going rate.
I wanted to know what he thought of the moves,
And what he'd reccommend we do to improve.
I had to get back, can't leave Mozeliak alone,
He might set up an academy all on his own.
I asked if he'd come back to the office with me,
"Only if you'll tell me you who'll get for Marquis."
I laughed and said, "For you, I'll do anything,
And I'll even tell you how we got rid of King."
With spryness I missed, he leapt over the rubble,
I added, "Is Ponson going to be trouble?"
Back in the office he saw what we were thinking,
"Don't listen to Bernie, the ship's not sinking.
You have the Most Valuable Player and Cy Young,
It's coming together, the bell hasn't rung."
"There aren't many options, we'll have to get by,
I'll make my big move at the end of July."
"Don't worry," he said, "You'll get the team on track."
I rose, shook his hand, and said, "Thank you, Jack."
He walked to the door and looked back with a grin,
That clearly told me now was the time to begin.
And I heard him exclaim, ere he went out of sight,
"Merry Christmas to all, and to all a good-night!"
Whoa
I'm away from the computer for a few hours and all hell breaks loose.
Wednesday, December 21, 2005
Cheers, Sir
"Fat, drunk, and stupid is no way to go through life, son." Let's just call him Flounder. And hope he's drunk enough to think it's funny.
Anyway, low-risk, high-reward. Yadda, yadda, yadda. It's fine, whatever. If he's cleaned up, we can ease Reyes and his 142-innings-pitched-in-2005 into the rotation. I don't want to see Anthony in Memphis next year, but I also don't want to see him hurt and/or completely gassed in August. I also don't want to see Marquis traded until we know exactly what we have in both Reyes and Ponson.
From the
AP story
:
"Sidney has made it very clear to us that he is committed to turning both his life and his career around," Cardinals general manager Walt Jocketty said. "He's a tremendous talent who has made mistakes, but he's been making huge strides in trying to return himself to a much better quality of life. There were several teams interested in him, and we feel that our organization can provide him a solid basis for a fresh start if he is serious about turning his career around."
We're a pretty tolerant bunch, us Cards fans; we rationalize all kinds of craziness. But if he does anything to besmirch the idealized, wholesome, family values version of the Cardinals most fans think of, well...it's only a million bucks.
Interesting Tidbit
From the very bottom of
Goold's article
about non-tenders:
"...catcher Yadier Molina has decided to switch from the No. 41 he's worn to No. 4."
Hmmm. They usually don't pass out those low numbers to just anyone (Luna wears 7, so it's not hard and fast).
Monday, December 19, 2005
Congratulations
Friday, December 16, 2005
Swinging Scrabble
Alrighty. More fun with Scrabble. This time, we're using the
Swing of the Quad Cities
(who have one of the
prettiest settings
for a ballpark I've ever seen). I analyzed the frequency of letters in the roster (really) and have allotted the following number of tiles for each letter:
| | | | | | | | | | | | | | | | | | | | | | | | | | |
| --- | --- | --- | --- | --- | --- | --- | --- | --- | --- | --- | --- | --- | --- | --- | --- | --- | --- | --- | --- | --- | --- | --- | --- | --- | --- |
| A= | 9 | B= | 2 | C= | 7 | D= | 3 | E= | 11 | F= | 1 | G= | 1 | H= | 4 | I= | 6 | J= | 2 | K= | 4 | L= | 6 | M= | 7 |
| N= | 6 | O= | 4 | P= | 2 | Q= | 0 | R= | 6 | S= | 6 | T= | 4 | U= | 2 | V= | 1 | W= | 1 | X= | 1 | Y= | 3 | Z= | 2 |
Plus two blanks.
Here are the rules
, but you can use as many letters as you like, so there's no bonus for using 7 "tiles". Again, the prize is a game from 2005.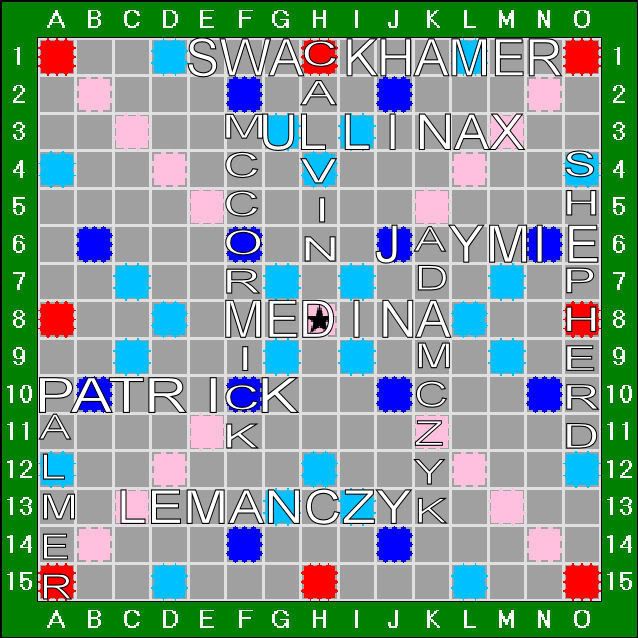 There are lots of great names with crazy spellings.
redbirdbrain has 129 points, Bruce has 48, DanUp has 42, the Iron_Throne has 195.
No more "a," "d," "i," "k," "m," "p," "v," "w," "x," "y," "z"
Fair Warning
But first, Looper. $13.5 million for three years, in this market, is not out of line. People bitched when Walt didn't spend, and now they're going to bitch he's spending too much. The front office made it very clear after being unable to land Burnett that the bullpen was the top priority. And if it meant paying a little more than what they felt was the "real" (as opposed to "market") value was, they'd do it. The thing I'm not as happy about is the length of the contract. Relievers can go from being lights out to utter crap quickly (see: King, Ray). The longer the contract, the greater the chance of paying a lot of money for batting practice. But after losing one first round draft pick earlier this week, the signing has a nice kind of symmetry.
So, the Scrabble was fun, but very bad for trying to work. Having now learned my lesson, we're going to play over the weekends, starting this week. I figure, with the two weeks for the holidays off, this will take us to right about the time pitchers and catchers report.
Thursday, December 15, 2005
Hello, Braden Looper
Three years, no word on money yet.
Can we please get this guy an "N"?
Ok,
$13.5 million
.
And The Winner Is...
Congratulations to
redbirdbrain
, winner of the Springfield Cardinals Scrabble game. And, really, we're all winners now that we know a little more about our boys in the Ozarks.
Tuesday, December 13, 2005
God, I'm Bored
Like really, really bored. Anyone else? None of the moves are exciting. There aren't any interesting rumors. I mean,
this
is the new article on the official site. The Nutcracker dealy is next. And La Russa in tights? I avoid those articles every year.
So, we're going to play a game. Scrabble.
Here are the rules
. Obviously, we can't draw new tiles, so no blanks (you won't need them anyway). To make a play, leave your word in the comments and the starting square (upper left corner=square 1, 15 squares to a row, 15 rows - make sure to say if you want to go horizontal or vertical). Yeah, it's a little cumbersome, but we'll make it work. I'll keep track of what letters are available.
Here's the twist: you can only use the names of players and coaches from the
Springfield Cardinals
. I included a starting name on the board below. I don't have any
baseball cards
to offer as a prize, but if someone does win, you can download the 2005 Cardinal game of your choice (totally legally, if you're reading Selig).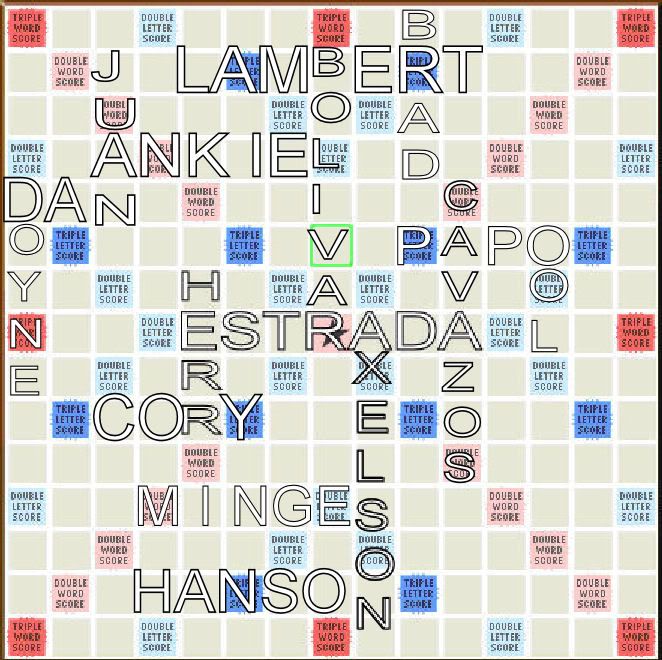 Alex has 7 points, redbirdbrain has 68, Pop has 13, Laura has 67, ryan vb has 28, l boros has 20, Bruce has 25, salvomania has 22, the Iron_Throne has 4.
No more "a," "b," "c," "h," "j," "k," "l." "n," "o," "p," "s," "v," "x," "y," or "z"
Remember: first names are OK, too.
OK, the cutoff is midnight Pacific time.
Sunday, December 11, 2005
Hola, Ricardo
Rincon signed
. 2 years/2.9 million. Looking at his
three-year splits
, he shouldn't pitch to right-handers very often. Over those three years, his innings pitched have gone down while his ERA has gone up by over a run and his ERA+ in 2005 (104) was the worst of his career. Of course, relievers are notoriously flighty, so he could be super-fantastic next year. And since Flores is coming off surgery and who knows what Tyler Johnson can do, getting another LOOGY is prudent. Yes, the best I can come with about this signing right now is "prudent."
Saturday, December 10, 2005
Thanks, Matt
Good luck
. You were great, frustrating, dominating, inconsistent. I'll miss you cause you've been here forever, but this is probably better for all parties.
Thursday, December 08, 2005
Hilarious
Wednesday, December 07, 2005
Oooooh. I'm Telling!
I have had a very bad word bubbling up in my thoughts all day. It's not applicable to the current situation, not really, but it keeps showing up. I mean, teams with the Cy Young Winner and MVP coming off a 100-win season with an NLCS appearance don't go through those phases. I've never wanted Jocketty to do something just for the sake of doing something, but I'm getting there. I guess things will start to shake out more tomorrow when we can see the list of who was not offered arbitration.
As I watch the last moments of Busch Memorial Stadium, musing on what a perfect tangible metaphor that is, I'm trying to come up with a
haiku
. So far I've got:
Crap crap crap crap crap
DeWitt, I'm getting pissed off
We're going to suck
It's always darkest just before dawn.
Right?
Tuesday, December 06, 2005
In From The Ledge
I had to step back and take a moment because last night I was despondent;
this Desipio headline
summed it up for me. Down two outfielders, a second baseman, and replacing Morris with Reyes. Can't trade Marquis for a good outfielder and almost all of FAs out there are pretty much crap. Bleak. Remember a year ago today? No 2B, replacing Williams with Haren, Morris had yet to sign, and about to be dissed by TSSWMNBN. Two years in a row we slump towards the Ides of December seemingly up a creek.
Then, three days after losing TSSWMNBN, Jocketty traded for Mulder. This is not the time to rehash the trade for the 1 billionth time, but it was only possible by not signing TSSWMNBN. That non-signing also allowed the Cards to sign Eckstein and Grudzielanek. Of course, we need this year's Haren, this year's Calero blew out his elbow (and is a free agent), and there's no Barton. So our options are a tad more limited.
I wish they could resign Grudz, but that is almost completely outside the realm of possibility as there are only two days in which to get a deal done. Hell, right now I'd be ecstatic to see Reggie and his da Gama-esque fielding. What I do
not
want to see is Boone and his platinum hair at second; we finally broke Jimmy of his highlights habit, Boone would be a bad influence. Plus, Boone sucks. Know who else sucks? Jacque Jones. I mean, a .201 AVE vs. left-handers? I think I just threw up.
It looks like
TSSWMNBN is
being shopped
. I find that incredibly, and
deliciously
, amusing.
(Second link requires registration, ahem.)
Late-night-I-should-be-in-bed-update
: Know who else sucks?
Vina
.
Monday, December 05, 2005
24 Hour Party People
Or, The Timeline of Hype
It started
here
. Somebody thinks they saw Burnett at the airport last night.
Scout
then posted a report (and they've been caught using random people on Cards Talk as sources before, so...) of a five-year deal. Then over to
Sports Lounge
where Hawg and another person with independent sources said things were looking good for the Cards. This morning, everyone's saying the Cards are not offering a guaranteed fifth year, but the Jays are. And the Nats are trying to get into the mix even though they don't even have a budget.
Are we having fun yet? No, me either.
VEB
is on top of this like no other.
Here's Hawg's
latest from the meetings
.
Thursday, December 01, 2005
Double Your Pleasure
Doing a two-fer tonight, cause I don't want to drag out the rotation any longer and I'm not doing this on a Friday night. First up, Matty.
ONFIELD
Defense
i. Hustle (10) Meh. 6 points.
ii. Agility (14) Decent. 9 points.
iii. Catcher (5/0) N/A. 0 points.
iv. Awareness (8) He has committed only 10 errors ever, and five of those were in his rookie year. 8 points.
v. Defensive Stance (8) Morris hunches his shoulders; it's weird. 5 points.
vi. Pitching Face/Post-strike out (5/0) He does get a little excited after a strike out, even ones in unimportant situations. 5 points.
Offense
i. Hustle (10) He often looks like he's lumbering down to first. 7 points.
ii. Batting Stance/Face (12) Not as bad as it could be, I guess. 8 points.
iii. Power & Average (12) No XBH and only five singles. 8 points.
iv. Pitcher's bunting ability (5) More sacs than hits. 5 points.
v. Selflessness (14) Doesn't really have much of a choice. 11 points.

Dugout/Clubhouse
i. Press Conferences/Interviews (8) He sounds much more cerebral than you'd expect. 7 points.
ii. Quotes (8) "Bud does make you wiser." 7 points.
iii. Chatty (8) Sure. 6 points.
iv. Fights (6) Matt's never had a problem standing up for the boys. 6 points.
OFF FIELD
Personal Hygiene (16) I liked the original incarnation of The Beard. The trimmed version, not so much. 13 points.

Commercials (local) (8) None. 0 points.

Commercials (national) (10) None. 0 points.

Commercials (MLB) (10) None. 0 points.

Dress (10) Good enough. 6 points.

Rumors (6) He likes Phish, draw your own conclusions. 5 points.

Awards (6) Two-time All-Star. 3 points.
125 points. I will miss Matt, but only in that "He's been a Cardinal his whole career" way. It's time for him to move on. Here's Jason:
ONFIELD
Defense
i. Hustle (10) Quick off the mound. 8 points.
ii. Agility (14) I don't recall any really spectacular plays. 9 points.
iii. Catcher (5/0) N/A. 0 points.
iv. Awareness (8) As long as he's not brooding about something else. 5 points.
v. Defensive Stance (8) When he lands he looks like a bulldog. 6 points.
vi. Pitching Face/Post-strike out (5/0) He looks mad when pitching, but takes the Ks in stride. 5 points.
Offense
i. Hustle (10) He had a triple! 10 points.
ii. Batting Stance/Face (12) Not the prettiest swing in the world, but it works. 10 points.
iii. Power & Average (12) Yeah, duh. 12 points.
iv. Pitcher's bunting ability (5) He can, but why bother? 3 points.
v. Selflessness (14) Will sacrifice when asked, but I think he

really

likes to hit. 9 points.

Dugout/Clubhouse
i. Press Conferences/Interviews (8) Good, when he's not all pissy. 7 points.
ii. Quotes (8) In print, you lose the hilarity of the accent. 5 points.
iii. Chatty (8) If he isn't moping. 6 points.
iv. Fights (6) Again, bulldog. 5 points.
OFF FIELD
Personal Hygiene (16) No embarrassing facial hair. 14 points.

Commercials (local) (8) None. 0 points.

Commercials (national) (10) None. 0 points.

Commercials (MLB) (10) None. 0 points.

Dress (10) Better than I thought. 7 points.

Rumors (6) Bulldog=bullheaded. 4 points.

Awards (6) Silver Slugger. 2 points.
127 points for Marquis, mainly since he can hit. Because Lord knows he had some issues with the pitching this year. If he could put it all together, he'd be great. But if Leo
and
Dunc can't fix him, well...I'll enjoy our new outfielder.