Saturday, April 30, 2005
BS
And, no, that doesn't mean Blown Save.
That was the worst, absolutely
the worst
, umpiring. Dale Scott cost us the game. He missed the third strike on the strike-em-out-throw-em-out, calling it ball four (and it had been a strike all night). So instead of two outs and one man on, the bases were loaded. The Braves proceeded to score on a walk to tie the game.
I am so mad. Suppan has to bring his A game tomorrow. And someone needs to hit a couple line drives very near wherever Scott is standing.
Thursday, April 28, 2005
Today Was Supposed To Be A Day Off
And from what I could tell, they boys' heads weren't really in the game. Marquis wasn't following
the plan
. Pujols struck out (and ended the game on what looks to be a can of corn on Gameday). Nine men left on base (for a total of 32 in the series). I have no idea why Nunez was pinch hitting in the 9th. Mabry is still on the team, no? He was
looking sad
in the dugout yesterday, so I think he is. Maybe he is still achey. Yadi continued his exercise in near futility. Poor kid. I'd say he needs a day or two off, but Diaz scares me.
The good news is the Birds won the series. Journell did quite well today. And So continues to be Taguchi.
Sleep on the plane, fellas. Don't go out in Atlanta tonight. There's a big game coming up tomorrow. The Billy Beane Braggin' Rights Game.
Wednesday, April 27, 2005
Ol' Blue Eyes
I really need to win the lottery. I mean, missing this game because I had to actually work at work is very annoying. I couldn't even get one minute to listen to it. Please write to Power Ball and let them know. There's just something unfulfilling about watching on TiVo. Though, I can skip the Dirt Cheap ads. That's a plus.
So. Recently, we've seen Carp shut out the icky Cubs and Mulder make the Astros look ridiculous for ten innings. Today Carp tied a career-high for strikeouts with twelve.
But the day belongs to Grudzielanek. The Cycle! My goodness, that is exciting. Mark, when I finally get around to doing the Player Watchability Factor for you, you will do quite well.
Being a naturally very superstitious person (as well as following LaRussa's "Prepare for the worst, hope for the best" philosophy) I am worried we are using the "magic moments" too early. It is still only April. Two fantastic pitching performances, a guy hitting for the cycle, all in a week? What's next? I do have a few ideas of what could be next, but will not mention them.
The flip side of this is the stupid number of pen guys on the shelf: Izzy, Pulsipher, Eldred, Lincoln (not to mention position players with various lingering hurts). Everyone remembers 2003, luckily Tavarez and King are better than Yan and Fassero. If Izzy is really only out for 2-3 weeks, as everyone seems to be saying, I think things will be fine. Ray and Julian know what needs to be done and can actually do it (baring any phones talking back to Tavarez). When asked about the bullpen being short this morning, Tony took offense, saying something along the lines of, "Short? We're not short. Well, Carmen's not very tall, but we're not
short
." Glass half-full guy, that Tony.
Tuesday, April 26, 2005
Izzy Down
Yeah, the Cards won, but....
I was feeling quite comfortable with Jason out there, and then he knelt down and didn't come back up for a long time. It's said to be a strained abdominal muscle. We
need
Izzy.
Monday, April 25, 2005
Stupid Rain
Since there's no Cardinal game tonight I'm slumming it by watching the Reds at Cubs. Cards' starters all get pushed back a day, so we still get our Mulder/Hudson game on Friday.
Mulder won
Player of the Week
. I can't imagine a longer name for an award than "Bank of America Presents the National League Player of the Week." Mark will get a fancy watch for his efforts.
Sunday, April 24, 2005
Sweet Sweep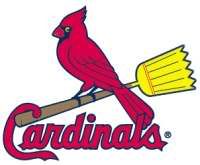 Sweeping the Brewers and Pirates is great, but not terribly surprising. Sweeping the Astros is a whole lot more fun.
Jimmy Journell has thrown a ball very close to someone's head in both of his appearances. Randy Flores, Al Reyes, and Julian Tavarez made things a little too interesting Friday. Angel Hernadez has to insert himself into a series somehow, even if it means saying a double play is a triple play. Morris did quite fine in his second start. No evidence of Good Matt/Bad Matt. Lots of hits, only one homeun. I like it. All the starters got on base today ('cept Matty), and Eckstein and Grudzielanek had three hits apiece.
Saturday, however, makes up for any defensive lapses, allowing inherited runners to score, walking in a run, and the price of gas. Stupendous. I'm still mad that this game wasn't on Extra Innings. It was a great game to listen to, but I have no idea how Mulder looked. We can certainly put that "Beane knew he was hurt" nonsense to bed. If Duncan has indeed fixed Mark's mechanics and The Sinker Fairy has left something under his pillow, this will be incredibly entertaining. Next up for Mulder: Friday versus Tim Hudson.
Phil Garner, though, was
not impressed
. Ok, Phil. If a ten-inning, 101 pitch, 5 hit, no walk shut-out is a "pretty decent" game, what is your definition of a great game? It's too bad your hitters can't do anything for Clemens, but getting batters to go after pitches out of the strike zone is what good pitchers do. Maybe Ol' Phil is of the school that thinks only strikeout flamethrowers can be dominant.
Thursday, April 21, 2005
CGSO
Wonderful. Simply wonderful.
The pitchers have done pretty well recently, huh? Seven quality starts in a row. Too bad about last night. Jeff wasn't on, but he kept them in the game, the defense was just...not good.
Ah, but today. Carp got in a couple of jams, one of which was due to Catcher's Interference that negated a good looking double play. But he got out of them, and with style. Chris almost got out of it with no walks, which would have been so nice. Good to see Larry and Scott with the homeruns (plus Scott got his 300th double). The offense still isn't altogether there, but it looks like it's starting to come around.
I know this has been discussed ad nauseam, but even
I
know that Remlinger has reverse splits. Why on earth would Dusty bring him in to face Walker? That was Phil Garner dumb.
I did see something odd in this game. Albert gave Lee a little pat on the ass after Lee singled in the ninth. They were laughing it up yesterday, too. This bothers me. Don't give an opponent an attaboy when your pitcher is going for a shut out. They don't have to hate each other, but pats on the butt are unnecessary.
Good series, if short. A little heartbreak, a little elation. Great starting pitching from both teams, timely hitting today, good recovery from a bad first game for the Birds.
But the curtain calls must end. Now.
Wednesday, April 20, 2005
I Don't Want To Talk About It
Really.
I don't want to talk about it
.
That game was way closer than it should have been. Suppan=not sharp. Defense=terrible. Hitting=non-existent. Don't like to see Nomar hurt. Also, don't like to see everyone swinging at first pitches.
I really wanted to win. I hate the Cubs. Didn't used to, but Dusty drives me mad.
Tuesday, April 19, 2005
Something Wicked This Way Comes
I've had this strange feeling in the pit of my stomach all day. It didn't have to do with Morris' start tonight. I just couldn't put my finger on what was causing my angst. Then I realized...
The Cubs are coming.


Tomorrow it's Suppan v. Zambrano. Or really, Edmonds v. Zambrano II: This Time It's Personal. And Carlos, you're in our house this time. Wednesday will be exactly nine months since The Pujols Game. You know the Cubbies will be ready to go. The Cardinals seem to be clicking just in time.
Yes, we've had five good games. Against Milwaukee and Pittsburgh. I don't think Jeff will shut out the Baby Bears, but if he can beat Clemens and Sheets, he can beat Zambrano. And if Zambrano tries anything funny...well, I remember Albert coming out of the dugout with a bat in his hand after Edmonds got plunked for the second time. You really want that coming at you, Carlos?
Oh yeah, Matty looked good tonight, in spite of the obligatory homerun.
Monday, April 18, 2005
The M & M Boys
I got home just in time to see the no-hitter lost. Then Yadi dropped the ball on the play at the plate.
Clearly, I am the jinx.
But, wait. Molina with three hits? Mulder with no earned runs? Where are we? What is going on?
Mark dropped his ERA from 6.00 to 4.74. Molina raised his average to .118. I know they scored nine in the ninth inning, and that was fun, but Mulder and Molina are the Important Things from today's game. Molina only wears one batting glove. And Mark looks good at the plate (though not in a productive batting way).
I can't say that this marks (heh) the beginning of a tremendous season for Mulder. I wasn't willing to say we were hosed after two crappy starts and one good start doesn't make a trend anymore than his two shitty ones do. Still, it was quite an outing for Mark. Maybe Duncan was right when he said Mulder needed to get away from St. Louis. A nice thing was that he caught the comebackers tonight that had previously been deflecting off his glove.
Now that Molina has strung a few hits together, I'm not going to really worry about him anymore. I will, however, go to my grave wondering how he made it from first to home. I mean, he can't even outrun a homerun. I can understand his reluctance to be barreled into by Pirates and he did hold on to the ball in the sixth. Plus, he's caught four very good games in a row.
So, who thinks Tavarez will pitch tomorrow, just to piss off McClendon?
Sunday, April 17, 2005
Beer Leagues
This weekend I got the Milwaukee feed from Extra Innings. The Brewers' announcers drove me insane. I learned that Brady Clark is a baseball GOD. Who knew? And they must stop saying "Here comes that man again." That is reserved for Stan Musial (although sometimes I say it for Pujols). It does not apply to
Brewers
.
Nice little series, huh? Three lovely starting pitching outings (Marquis has only one earned run in each of his three starts), Rolen started hitting, the Cards capitalized on the numerous Brewers mishaps, Izzy had two just filthy innings Friday and Saturday. Sunday was not as pretty, but he's on pace for 81 saves, so who am I to argue?
Saturday's game might not have been as close if Edmonds hadn't jogged to that double in the 8th, but he was sick and they didn't lose. And he made up for it with a very nice catch today. I don't like the reliance on homeruns, but when so many guys are scuffling, options are limited. We'll see in the next two games against the Pirates if Mulder and Morris can continue the quality starts. Overall, though, things seem to be falling into place-everyone can come in from the ledge. Factoid from today's game: only Pujols and Rolen had hits.
Now, about Molina...
Friday, April 15, 2005
There Is No Joy In Mudville
The Mighty Albert has struck out.
Thank God. Now he can go back to the Albert we know and love. Rolen, on the other hand-yikes. Just terrible. He says he's
not hurt
, just sucky. I don't know about that. There's something not right. Also, Jimmy is sick.
And actually, there is joy in Mound City; the Cardinals won 3-0.
Wonderful
game by Suppan. Eight and a third innings, five hits, two walks, no runs. And he is the master of the suicide squeeze.
Wheelings and Dealings
There's no official release yet, but on today's
Press Pass
, its was announced that Carpenter signed a two-year extension with a club option for 2008. No money details yet.
Of course, the guy we're facing tonight also just
signed a contract
. $38.5 million for four years.
Too bad Chris isn't pitching. It would be fun to watch a Battle Of The New Contracts.
Eldred's
illness
is sounding more and more serious. Here's to a speedy recovery.
Ok,
here's
the press release regarding Cal. A mild inflammation of the lining and muscles of the heart? No wonder he's been exhausted.
Thursday, April 14, 2005
TO: Ryan Freel
FROM: bellyscratcher
RE:
Breaking our utility infielder
Dear Mr. Freel,
I have been made aware that you broke one of the Cardinals' players yesterday afternoon at second base. While I know this was not your intention, you must understand that this action cannot be overlooked. We highly value our bench players, getting them regular work with well-defined expectations. Unfortunately, even at this early date, we are not at full strength on the bench (Mr. John Mabry has a bad hamstring), and with a broken Mr. Abraham Nunez we are left without a legitimate left-hander.
Unlike Pottery Barn and countries with oil, we do not have a "You Break It, You Buy It" policy. However, some form of recompense is required. To that end, I have been authorized to propose the following:
1. If your organization would like to pay Mr. Nunez' contract this year, I'm sure something can be arranged.
2. Should the breaking of Mr. Nunez necessitate the recalling of one Mr. Bo Hart during Mr. Nunez' convalescence, your organization will not throw any breaking pitches to Mr. Hart during his tenure with the Cardinals. Reds' pitchers shall throw only fastballs down the middle not below 80 miles per hour and not to exceed 90 miles per hour.
3. In the event the Cardinals and Reds do not face each other while Mr. Hart is with the team, the terms in Number 2 shall apply to Mr. Albert Pujols, Mr. Scott Rolen, or Mr. Larry Walker (your choice).
4. For the remainder of the 2005 season, all homeruns hit by the Reds while facing the Cardinals will be considered caught by Mr. Jim Edmonds, and therefore, an out.
We feel the above proposal represents an accurate and fair valuation of the breakage and loss suffered by our bench. We are open to hearing counterproposals, but Numbers 2, 3, and 4 are non-negotiable.
Please indicate your acceptance of the above terms with your signature and season tickets.
Sincerely,
bellyscratcher
Wednesday, April 13, 2005
Ick
Lovely game by Marquis last night. A triple and only one earned run. Jimmy got his 1,500th hit.
Oh, today's game? Yeah. Um. I'm sure there are many calls for Mulder's head (probably Walt's, too) out on the message boards. I wouldn't go that far, but I will say this: he's looking less and less cute by the day.
Positives: Molina got a hit. I'm not worried about his total lack of offense before today. Reggie seems to be very serious about that 30 homerun thing-now let's work on that stolen base goal. Jimmy's doing well. Defense is improving. Albert still hasn't struck out.
Negatives: Albert's trying too hard to not strike out, he should just get it over with. Mulder's
lost his sinker
(I guess the Change Up Fairy took it). Rolen couldn't hit water if he fell out of a boat.
Bleh. Let's go remind the Brewers that they aren't a first place team.
After a good night's rest, of course.
Monday, April 11, 2005
It Wasn't Doubleday, It Was God
I found it a week late, but Glenn Birkemeier's
Opening Day Genesis
is worth reading. Love that he included Jack Buck. I think, one day very soon, he'll have to include
one other name
.
Ok, has everyone got their whining done? Is Jimmy tucked snugly in bed tonight? Did La Russa and Duncan call them all lollygaggers? Are the
ass-bats
out of the mid-west (the Twins must have sent them down the Mississippi)? Alright. Good.
Now we can get started.
Sunday, April 10, 2005
Whither The Cardinals?
Seriously, where did they go?
Saturday, April 09, 2005
Tomorrow is Another Dia(z)
You cannot,
cannot
, let Thome get to first after striking out. That was just ugly and annoying. Poor Randy Flores, he was out there for a little too long and Diaz screwed it up. I guess at that point, it didn't matter too much, but Einar did not endear himself today. Sure, he tried to make up for it with a couple of hits, but too little too late. It's not all is fault though. The Cards can often be made to look incredibly silly by pitchers they've never seen (Floyd has only pitched in six games since being called up last September).
Good things from the game: Pulsipher and Flores (I am not acknowledging the homerun-
it never happened
)
Bad things from the game: Diaz' yips and a complete inability to hit Floyd
Coming up tomorrow:
Lieber's
pitching for the Phils. Cedeno might get a start over Sanders tomorrow-Tony loves his match ups. And
Abreu
seems to have Carp's number.
Friday, April 08, 2005
Karma's a Bitch
I had the perfect plan. A couple of weeks ago I decided I would feign some mysterious illness to leave work and watch the home opener. Tragically, it's not on Extra Innings-so that idea was scrapped.
Today I woke up genuinely sick as hell. In my fever-addled mind sometime around 3 am I confused the Pope's funeral on my radio with baseball. Well, they kept mentioning Cardinals.
So instead of being at home, in bed, listening over the internet half-awake, I was at work, bothered by (and bothering) other people. On to the game. Let's go by the numbers.
Times Eckstein got on base: Five
Times he scored: Two
"Dammit Izzy"s uttered: Too many to count
Co-workers annoyed: At least three
Number of people who were thinking about Danny Haren's outing last night while watching Mulder: The entire population of St. Louis
Mulder's ERA: 6.00
Sweet, sweet strike outs by Kenny Lofton: One
Number of top five MVP vote getters with a BA under .200: Two
Julian Tavarez Moment of the Day:
He fell getting off his convertible
Number of
saves blown
by the
Cubs
today:
One
You Rock: Eckstein. They said we'd love him and they were right.
You Don't: Gotta go with Mulder here. Even after all that talk about
not
being nervous
, I'm going to hope that's all it was. Because if I don't, well, I'll get kinda mad.
Wins: Two
Losses: One
Wednesday, April 06, 2005
Cardinals (1-0) at Astros (0-1)
Sooo. That was unpleasant. I have the game Tivo'd, but...eh. Every time I checked in (I was at work after all) it seemed Marquis was creating, in, or getting out of a jam while Andy Pettitte was cruising. I'm glad there's an off day tomorrow to let the pen rest and perhaps remove their collective head from their collective ass. I realize that King's getting over the flu and Eldred's contagious (he's probably quarantined in the charter flight bathroom), but Tavarez is not sick. Ok, boys. Let's put this behind us and beat up on the Phillies this weekend.
Tuesday, April 05, 2005
Cardinals (0-0) at Astros (0-0)
It's finally time. I knocked off work early (Hi, Mom!), have my St. Louis brewed beverage and am sooo ready for meaningful baseball.
David, look at more pitches, that is part of your job. Oh, Mulder is so pretty. Everyone's batting helmet is so shiny. First base hit of the year! And here comes that man again. What a look he has at the plate. Pujols can impose his personal will on a game. If he wants to win, the team will win. Of course he flies out to center. Larry and Scott are safe! Don't get so fancy, Everett. Oooh, awfully close pitches to Jimmy. C'mon Hollywood. JIMMY!!!! God, I love him so much. 3-0.
I really miss Steak 'n Shake.
Those Busch Stadium Final Season patches are bigger than I thought they'd be. Wow, Sanders is in right and left? That's some kind of range. And the new double play combo comes through. Nice. Damn, Yadi, that's a long strike. Is that Babs Bush? Molina has shaved his head.
So who else is incredibly pissed that Extra Innings isn't carrying the home opener? I swear it's a plot between my cable company and MLB to make me spend more money. It
is
Babs. Oh, Scotty. You are fantastic. Hint: group of older white guys=scouts. The Astros outfield is the antithesis of the Cardinals outfield, agewise. The Astros next hitter hasn't even been in AAA. Oh, Scotty. You rock.
Eckstein is Gaedelish at the plate-teeny tiny strike zone. And that's up the middle. Lovely. (TSSWMNBN's first two games with Boston? Not so hot.) 'Kay, Pu...SAFE ALL AROUND! Oswalt's getting squeezed a bit, I think. J-O-S-E Oquendo. Who sings that song? Damn. Double play. So AA guy gets a hit. Nuts. Nice bunt, high throw. I see Cardinals jerseys in some good seats. Is the Astros' 3rd base coach a statue? He is completely stationary. Yes, Al, Phil Garner is a GENIUS. Right at Grudz. For the only time this year you can see a reflection in Biggio's helmet. Dammit. 3-1. Chris, let's go. And we're out of it. Phew.
Hey! I can listen to the post game show on KMOX. God bless the internet. Nice play by Everett. Ugly strikeout, Mark. Beer #2! And Oswalt has settled in. Hey, I was just thinking about Zambrano, Joe! Uh, that was a strike, but I'll take ball four. Lesson learned-don't make faces at the umpire.
Ok, bottom of the 4th, still 3-1. Oswalt isn't getting that pitch because he is making his displeasure known. Chris is just going about his business. Matty's trimmed the beard. I think I'd like to give him an extra week or so, but I guess we can't. Tony looks like he's napping. Nice easy pop up. The first time I saw that Nike commercial, I was totally against it. Now, I kinda like it.
D'oh. Comebacker. Where's Babs? Now Oswalt's getting the calls. Larry, let's rattle Roy, shall we? Guess not. Well, still, he's thrown a lot of pitches. Damn, Scotty, you can let David get to one every once in a while. Or can you? Can we not walk the pitcher? Good. 2-2 on Albert. And it's through! Er, Pujols is not really a threat to steal. Whoo-hoo! 2nd and 3rd with no outs!
Let's go Edmonds, let's go. Mmm, the tasty cream filling of the Astros' bullpen is getting warm. SCORE! Oh, dammit, WP, no running. At least it was not A Suppan. Mark-listen: stop looking so silly. Ok, hard luck. REGGIE! Ah. So lovely. 6-1. Oh, Scotty. You are the best. Beer #3! Christ, Molina has an arm. A Duncan and La Russa confab. Fantastic, strike out! Just imagine if Carpenter had been healthy last October.
Top 7. Carp's gonna stay in? Huh. Russ Springer pitching for the 'Stros. Carpenter will just stand there at the plate. Can you walk our pitcher please? Hey, Chris, maybe don't adjust your helmet on the way to the base. Eck, look at some pitches! Larry Freaking Walker. Homerun. Our outfield is old, but, goddamn. They sure can hit. Hey! Something hit out of the infield for the Astros. Is someone trying to start the wave? Two things hit out of the infield. Chris must be getting tired. Three up, three down, three fly outs. I almost want Carp to finish this, just cause it would be nice. But not necessarily smart. Ok, Carpenter is done. 7 IP, 1 run, 4 H, 2 K, NO BB.
Walk to Jimmy. Ok, Grudzielanek. Don't suck. Good job. 1st and 3rd after Sanders. Oh, Chris is so adorable. How excited must Pulsipher be? I am so happy for him. What the hell kind of pick off move was that? J-O-S-E Oquendo. 7-1 after 8.5.
Al Reyes now. Oooh, that foul tip isn't going to improve the umpire's mood. C'mon Al. Pop up to Grudz. Very nice 6-3. Palmiero. I liked him. Nice pitch for 0-2. And that's why I liked him-double to right corner. After two balls, Molina stands up to show his annoyance. Damn. Walk. Come on Reyes. Bear down. You know you're good. Let's finish this inning. Oh crap. Double off the left field wall. 7-3. Biggio is not my friend.
In game memo to Al Reyes: We have another Reyes. You need to step up.
Ok, Julian. Do your job. Don't let the setting get to you. I like how they show how fast the toss back to the umpire was-very useful. Dammit!!! NO MORE WALKS! 1st and 3rd. Molina is awfully handsy when he goes out to the mound. Keep it under control, Tavarez. DO NOT WALK HIM.
STRUCK HIM OUT LOOKING!!!!
Eckstein is really full of energy. Um, the stadium has emptied considerably. Three hits for Walker. Alright, Albert. You are only 1 for 4. We all expect you to hit somewhere in the neighborhood of .735. Thanks in advance. There ya go; single up the middle.
Ray King is in for the bottom of the ninth. Who are these people playing for the Astros? One pitch, one more out. Still with the small strike zone for a two out walk. Ok, King giving up the double. I really don't want to see Izzy. Crap. He's coming in. Don't suck please. Not good not good not good. Now it's good.
7-3. Totals and highlights when they're on the internet.
Ok. St. Louis: 7 runs, 11 hits, 0 errors. Houston: 3 runs, 7 hits, 0 errors. All four Cardinals relievers issued one walk. Jim get POG (from me) for his 4 RBIs shared with Chris for being awesome. Jerk Of the Day: Ed Montague for an annoying strike zone.
Monday, April 04, 2005
The Pujols Prayer
As we stand on the eve of the Cardinals' 2005 season, gathering our strength, double checking the supply of hot dogs and Bud Lite, visiting store-front psychics and voodoo queens, we are comforted by thoughts of a kid with "
old eyes
," an honest-to-goodness
lefthanded
starter,
two
guys
who are pretty much assumed to be the best at their positions, a fast-learning
tank/cannon
behind the plate (the Army drools with jealousy), and knowing that it's just possible that
huge bowl of concrete
that holds the heat so well might take on a life of it's own this summer, raising the mound a tad in the top halves of innings and moving the fences in just a bit in the bottom halves.
Humbly submitted to the Baseball Gods:
Pujols is my shepherd; I shall not want
He maketh me to watch stuff in green stadiums:
He leadeth me beside the pretzels and beers.
He restoreth my baseball:
He leadeth me in the paths of winningness for our city's sake.
Yea, though I walk through the valley of the shadow of loss,
I will fear no Renteria: For he art with the Sox;
Thy bat and thy pitching staff, they comfort me.
Thou preparest a bullpen before me in the presence of mine enemies;
Thou annointest my ballcap with Bud; My cup runneth over onto the guy in front of me. (sorry about that, dude, I say)
(prayer by cardinalgirl)
Sunday, April 03, 2005
They Got Me
On Friday, the Post Dispatch ran a story stating the Cardinals had put
Ankiel on waivers
. April Fools!
He's not
.
I
think
I've got this figured out. Because the Cardinals don't start the season until Tuesday, they have an extra day to finalize the 25 man roster. Since placing Rick on waivers will be an in-season transaction, other teams will have already set their rosters, so anyone who wants to claim him has to have a placeholder they can send down. And 22 clubs have to have their rosters finalized today or Monday. So even with a placeholder, a team would have to consider options and related things that are very complicated. Pretty sneaky. I'm sure Boras is also threatening to eat various GMs' children if they claim Rick.
Friday, April 01, 2005
Rounding Up
I don't do predictions. For one thing, I am not objective. Also, I am lazy. So here's some links to stuff you've probably already seen:
Yahoo
,
Fox
,
All Baseball
,
Baseball Toaster
,
SI
,
Diamond Mind
,
CBS
(scroll down), and
USA Today
. Also, many of the fine blogs to the right have overviews and predictions up.
Actually, I do have one prediction. Bill Pulsipher is going to
break my heart
at some point this season.