Friday, April 28, 2006
Congratulations
To Albert the Great for tying the April home run record. So there is something good in this game. Stupid ass Marquis.
Roster Moves
Rincon's been put on the DL,
Gall is up
. I have no idea what Mike Smith was talking about with the "last of Rincon" stuff. Dude's got a two-year, $3 million contract. The Cards aren't going to eat that. Besides, Tony would sit in a corner of the dugout, looking lost and forlorn if there was only one LOOGY on the roster.
Thursday, April 27, 2006
I'm Not Dead Yet
Really. I've finally got TV and internet at my new place...just can't really get through the boxes yet. Tonight, Fat Sid verses some lefty kid. I hate facing new guys. They always seem to give us trouble.
Thursday, April 20, 2006
"Podcasting" is what the kids call it, I believe
I haven't listened yet since my work computer doesn't have speakers and I still don't have internet at home. But you can! Red Hot Mama has
posted the smack
from the first inning of Saturday's game. It's a little over nine minutes and you can even download it to your ipod (yes?). I can't wait to find out what silly stuff I said at the beginning of the game and the sillier stuff after a couple beers.
You know, I think Chris Carpenter could really put it all together someday.
Monday, April 17, 2006
Live From Tape Delay
This weekend was the first series with the Reds this year and normally Red Hot Mama and I would get together online for a little smack talking. Clearly, this did not happen. You see, during Friday's game she was en route to St. Louis. We took in the games Saturday and Sunday (I missed HR #2 being, of course, in line). Aside from the baseball sass (which the proxy and RHM's Jon also took part in) our weekend consisted of beer, kosher dogs, nachos, beer, Uncle Bill's and laughing at the Really Drunk Girl. It was a blast; RHM is
more
fun in person. There will be recorded smack
available this week
.
My contribution to the multi-media extravaganza? I forgot my camera both games.
I'm without internet and TV for a few days, so Albert better wait until the end of the week to have another three home run game. And I'm sooooo done with Encarnacion. He has to win us the World Series for me to forgive the dropped ball and caught stealing yesterday. Ick.
Thursday, April 13, 2006
Ripping Off Fungoes
When I Am Old
And no one around knows any better, I will tell the tale of the night Jimmy Edmonds hit an inside-the-park grand slam. If anyone says that it was a double and two errors, I'll just laugh and tell them it's a myth to devalue the Great James Patrick Edmonds.
Tuesday, April 11, 2006
Welcome to Baseball Hangover
I was in a line for Mulder's homerun. I missed the 9th inning because I'm short. But, boy does my head hurt. Pictures and real sentences to follow.
Ok, the pictures are going to be delayed. But I saw Red and Lamping while I was going down the stairs. I said, "Red!" but he didn't hear me. I should have bugged Lamping for a job. Woulda, coulda, shoulda.
Monday, April 10, 2006
Over The River
Over the river and thru downtown,
To the new park we go;
The cab knows the way
But "Hurry," we say,
"We're meeting them at The Man," oh!
Over the river and thru downtown,
Oh, how the beer does flow!
We know our foe,
And know which row,
As we see our favorites throw.
Over the river and thru downtown,
To watch some first-rate play;
Oh, hear the man call,
"Let's All Play Ball!"
Hurrah for Opening Day-ay!
Over the river and thru downtown,
It's been a long delay!
But we're where it's at,
The birds on the bat!
For this is Opening Day.
P.S. Izzy: YOU SUCK!P.P.S. I'll be at the game in SRO, so if you yell, "bellyscratcher!" really loud, I might hear you.
Thursday, April 06, 2006
Niiiiice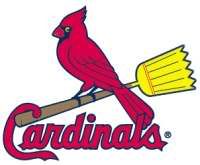 Now. Beat those baby bears. Badly. Make those bleacher bums cry into their Old Style and make those CFBs say, "It's not fair!" as they stamp their perfectly pedicured feet in frustration.
Wednesday, April 05, 2006
Never Easy
My Socks Have Been Knocked Off
To get this out of the way, the bad first:
Food lines were waaay too long. I couldn't wait that long for nachos, so I got a kosher dog from a stand (still delicious). The seats behind us didn't have cup holders. Lots of people are going to get wet if it rains. The directories aren't up yet, so I walked up four flights of stairs not knowing where the escalators or ramps were.
Now, the good:
The park is beautiful. The concourses wide, bathrooms large, sightlines nearly perfect. Lots of SRO. Plenty of beer and dog stands (again, the lines for the big "Gashouse Grill" type places were crazy, stands were fine). I basically walked around all night with a silly little grin on my face or with my mouth hanging open.
To sum up:
1 Kosher Dog ($5.50), 1.5 24 oz. beers ($8.25 each), 2 complete circuits of the stadium, 3 innings actually seen. Sorry I can't tell you about the game itself, but I will come back with a full report from...OPENING DAY.
Finally:
Pictures. Sorry they're in the post rather than a link to a slide show, but I don't get this internet thing.
Tuesday, April 04, 2006
Traffic Will Suck
In a few hours, I'll be sitting in the right field corner.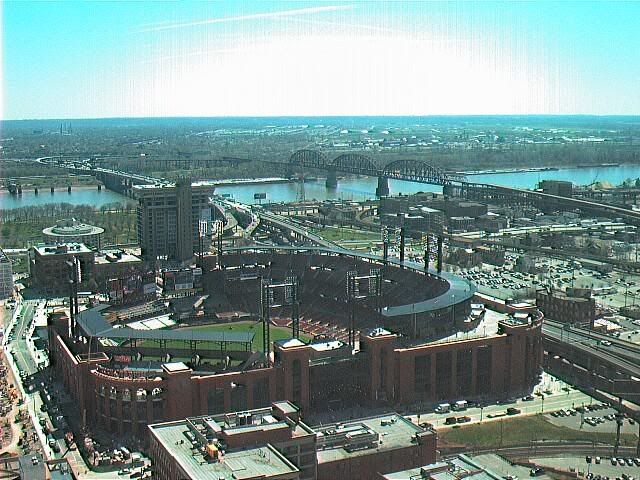 (KMOV webcam)
Beer and scorecard in hand. Per the Official Site, you can watch for free via the internet.
The Lollipop Guild
We represent
The Lollipop Guild,
The Lollipop Guild,
The Lollipop Guild,
And in the name of
The Lollipop Guild
We wish to welcome you to Cardinal Land
-With love from Aaron and David, the Munchkins of the National League
Monday, April 03, 2006
The Real Opening Day
Finally.
It a little over five hours, David Eckstein will come to the plate. Shortly thereafter,
Albert Pujols will make Jon Lieber cry like a little girl
. I'll miss seeing it live because of work, but luckily this will be repeated about 95 times over the course of the season. Because we can't be known only for having the tiniest middle infield ever.
Someone needs to explain to me why today isn't a national holiday.
Here's today's
Press Pass
.
Update: I am a genius.
Sunday, April 02, 2006
Opening...Night
Ok, tornados have passed through and I'm ready to go.